As you travel around Ecuador, you'll see some amazing things. What are the best things to buy in Ecuador? What products are worth the price and what's actually made in the country? In this post, you'll find our picks for the best Ecuador souvenirs to bring back home!
Best Things to Buy in Ecuador
Here are some of the best locally produced products that have made Ecuador famous. As it turned out, we bought a little of almost everything in this list (with the exception of the panpipes and the Tigua art).
We include food, art, wearables, jewelry (silver and tagua), leather and alpaca products from Ecuador. I hope that this guide will help you plan your purchases – and even your destinations as you explore the country.
Ready to get started? Let go!
1. Coffee
It probably comes as no surprise that coffee is my first recommendation. When we moved back, coffee was something I missed the most.
My favorite Ecuador coffee remains Cafe Cubanito. It comes ground or as beans and has the most wonderful chocolatey flavor. We liked it so much, that we took it every time when we left Ecuador on a trip. We enjoyed Cafe Cubanito on a road trip across the US and while walking the beach in Aruba. Yes, it's that good!
Of course, there are other great brands and roasters. Try them out and bring back a few bags of your favorites.
Cafe Cubanito makes a premium roast – which wasn't my favorite. We favored the standard (cheap) roast. This is sold in almost all the corner tiendas – and is the cheapest brand available.
2. Chocolate
Ecuador is famous for its chocolate. Not for its volume (it ranks 7th) but for it's quality.
Sarah Jane Evans, UK food writer and a founding member of the Academy of Chocolate, says that Ecuador's fine cocoa has "a floral profile with blackcurrants and spice." And what's significant is that this varies depending on the part of the country where it is grown.
A few years ago, we did a chocolate tasting of Republica del Cacao. We received a pack of 14 types of chocolate. It was pretty incredible to note the flavor variances between cacao grown in El Oro, Los Rios, Galapagos Islands, and Antigua Hacienda La Concepcion.

Another great manufacturer is Pacari. They also create single origin bars from these provinces in Ecuador: Esmeraldas, Manabi, Los Rios.
If you like chocolate, I recommend that you buy a stack of bars and do a taste test when you get home. (Or do it in your hotel. Who am I to judge?)
You can even get bars with amendments, like banana chips, figs, lemongrass, Andean blueberry, cherry, sea salt, hot peppers, golden berry (uvilla), coffee nibs, rose petals, and pineapple.
3. Sweets
There are lots of options for sweets in Ecuador. Here are a few you shouldn't miss:
Melcocha (Sugar cane taffy/toffee): This sweet treat is almost 100% sugar and tastes amazing. It is traditionally hand-pulled and can be bought on the street. This can be purchased in a package – at a sweets shop downtown or even at the airport.
Dulce de Leche (Milk caramel): This is a sweet, caramel-like candy spread. It is made with milk, sugar, vanilla, and baking soda. You can make this from scratch or pick up a jar at the supermarket.
Dulce de higos: These are figs preserved in sugar (panela). They are often spiced with cinnamon (canela). These sugared figs are often served with soft cheese in a dish known as higos con queso (figs with cheese).
4. Panela (Cane Sugar)
Okay, just one more sweet treat… Panela is unrefined cane sugar. In Ecuador (like much of Latin America) it's sold in bricks and granulated.
What does panela taste like? If you're used to white sugar, this will probably taste like molasses at first. But the more you have it, you'll begin to notice the complex flavors.
When we lived in Ecuador, we used it for everything. We used panela in cookies, jam, coffee, and to caramelize meat. It was especially good in baking – and we used it to make chocolate.
5. Local Recipe Books
I think this is the best way to bring some local flavor home. We have three cookbooks that we bought in Ecuador.
One is called Dulces de Cuenca (Cuenca Sweets) has 62 traditional recipes from Cuenca.
Another, Comidas de Ecuador (Ecuador Dishes), is broader and contains 20 typical menu items. It's even printed on cane pulp paper. Each menu is complete with starter, entree, and dessert from around the country.
While a number of items on this list can be found online in the US and Canada, I haven't found these recipe books anywhere. If you think you might want these, you should find them at a local shopping center or book store. We bought one at an Azuay University.
The ones we bought are in Spanish. I'm not certain that you'll find English language cookbooks for local dishes but with a good English/Spanish dictionary, this would be a great way to learn Spanish.
6. Tagua Jewelry
Tagua jewelry is made from the tagua nut of the Ecuadorian ivory palm (Phytelephas). It's known as vegetable ivory and has the same ivory color as actual animal ivory.

Because of its color, low cost, and sustainable production, it has become an extremely popular material. Products made with tagua include dice, knife handles, buttons, earrings, and chess pieces.
A word of caution: Because it is an organic material, it can be affected by insects. We've found a small pile of dust and holes in our tagua after leaving our gifts in a paper bag for a few weeks. I don't know if they had bugs when we bought them – or if we picked up the bugs after. Make sure to check your pieces over careful before buying them.
Here are a few pieces that show the shape of the tagua nut and how they are carved.

This material is made into some pretty impressive products – like the image at the first of the post (green necklace).
Tagua is sold around Ecuador. Some vendor have small engraving tools and will customize with simple art or text.
Here's a key fob that Drew gave me a few years ago.
7. Tiguan Art
Not to be confused with tagua (see previous), tigua art is a specific style that originated in the village of Tigua, near the Quilotoa crater, high in Ecuador's Andes Mountains.
Tigua art began with Julio Toaquiza – and included traditional farming activities painted on sheepskin with bright colors. Today, these scenes are available in many forms, including paintings, masks and drums, and carvings.
Tiguan art has taken on a life of its own – and is displayed in museums and galleries around the world, including Museum of Man (San Diego) and the Organization of American States (Washington).
Because of its popularity as an Ecuador souvenir, the local community has gone into full production – to satisfy the demand for this unique art.
8. Rondador (Panpipes)
The rondador (panpipes) are Ecuador's national instrument. They are unique because they can produce two tones at the same time.

If you spend some downtown – in almost any city in Ecuador – you'll likely hear these panpipes being played.
Often the musicians are performing for donations and have cds for sale. They make a beautiful sound.
Here's a taste of how they sound.
9. Textiles
Ecuador is famous for colorful textile products.
In the past, Otavalo used to be the place to go for locally made textiles. Now, you can buy products from Otavalo just about everywhere in the country. If you're buying from an open market, there's a good chance that you'll do business with an Otavaleno.
Here are some of the textiles that Ecuador is famous for:
Hammocks
Ponchos
Scarves
Yarn
Blankets
Hats and mittens
Not all textiles are made in Ecuador. While much of what is sold at the Otavalo Market is locally woven and manufactured, an increasing amount is being imported in the Otavalo style.
10. Alpaca Wool Products
Is there anything softer or warmer than alpaca wool? If you ask my wife, the answer is no. She has wool mittens, socks, scarves, and a hoodie all made with alpaca wool – and she loves them.
And so do thousands of tourists to Ecuador.
You'll notice alpaca and llama products at most gift shops in Ecuador. Some sell hats, socks, blankets and ponchos. Others sell balls of wool. As you shop for alpaca products, there are a few things to keep in mind.

While there are alpacas in Ecuador, they aren't that plentiful. What does this mean?
The odds are that the alpaca wool product you're looking at either comes from Peru or it is heavily blended with sheep wool or a synthetic material (like this blanket that is just 5% alpaca wool). That isn't to say that there isn't any local Ecuadorian alpaca products – but not enough to keep up with tourist demands.
It's not that anyone is being deceptive. Shops selling alpaca wool ponchos can accurately be labeled as "Made in Ecuador" if they are manufactured in the country (with imported materials).
How many alpacas are in Ecuador? According to CONACS, there are just 4,600 alpacas in Ecuador. In neighboring Peru, you'll find 3,041,598. That means that for every alpaca that lives in Ecuador, there are 661 in Peru.
Obviously, the alpaca wool business is going to be much larger in Peru. By comparison, Bolivia (333,000), Chile (40,244), USA (35,783), and Australia (16,700) all have a larger alpaca population than Ecuador.
Does it matter if your socks are actually made with Peruvian alpaca wool? Probably not. It doesn't matter to me. Just good to know what you're buying.
11. Panama Hats
This is one of the stereotypical souvenirs for tourists and new expats to Ecuador. And they are surprisingly comfortable and breathable.

They can be bought just about everywhere – from small shops to large factories and in small towns where they are a cottage industry. They can also be found online for visitors who can't make it to Ecuador to buy one.
Panama hats (from Ecuador) are world famous and can be found in many larger cities. A couple of months ago, we found a nice shop in Little Havana, Miami with hundreds of Panama hats. They ranged in price from $40 to $120 ea.
Are Panama hats made in Panama? Nope – they're made in Ecuador. Here are 8 more Panama hat myths and legends.
12. Balsa Wood Carvings
Around Ecuador, you'll find these well-carved and hand-painted figures. You'll find toucans, macaws, fish, frogs, turtles, iguanas, and butterflies.
They are lightweight and inexpensive. They make a great souvenir of your Ecuador trip. Balsa is strong – considered one of the strongest woods (with a large strength-to-weight ratio) because the large cells are mostly air.
From experience, I can say that these carvings are durable and travel well in a roller bag.
According to the book Balsa Industry of Ecuador, the area around Quevedo (located on the western side of the Andes mountains) is perfect for growing balsa wood. The soil is damp and has a well-drained layer of topsoil perfect for this fast growing tree. It is the fastest-growing jungle tree (aside from the wild papaya) reaching a height of 12 feet in one year. It grows to 50-60 feet in height in 6-8 years, making this a very sustainable material.
Here's an example of a balsa wood carving that my daughter bought me a few years ago. She even wrote "I love you daddy!" on the bottom. It proudly lives in our living room.

13. Ceramics
Cuenca is home to a number of ceramic artisans. One of the most famous ceramic artists in Ecuador is Eduardo Vega. See more about him in this post about his workshop and photos of his work.
There are a few artists that have replicated the Vega style and offer their work for less money. We have bought both – and (as you might expect) the lower cost ceramics are also lower quality. They have chipped and I don't think we even have them anymore.
The Vega items on the other hand, are not only more attractive, they are more functional. We have a couple of mugs and coasters and a very nice wall plate with an image of the old section of Cuenca – this is also in our living room.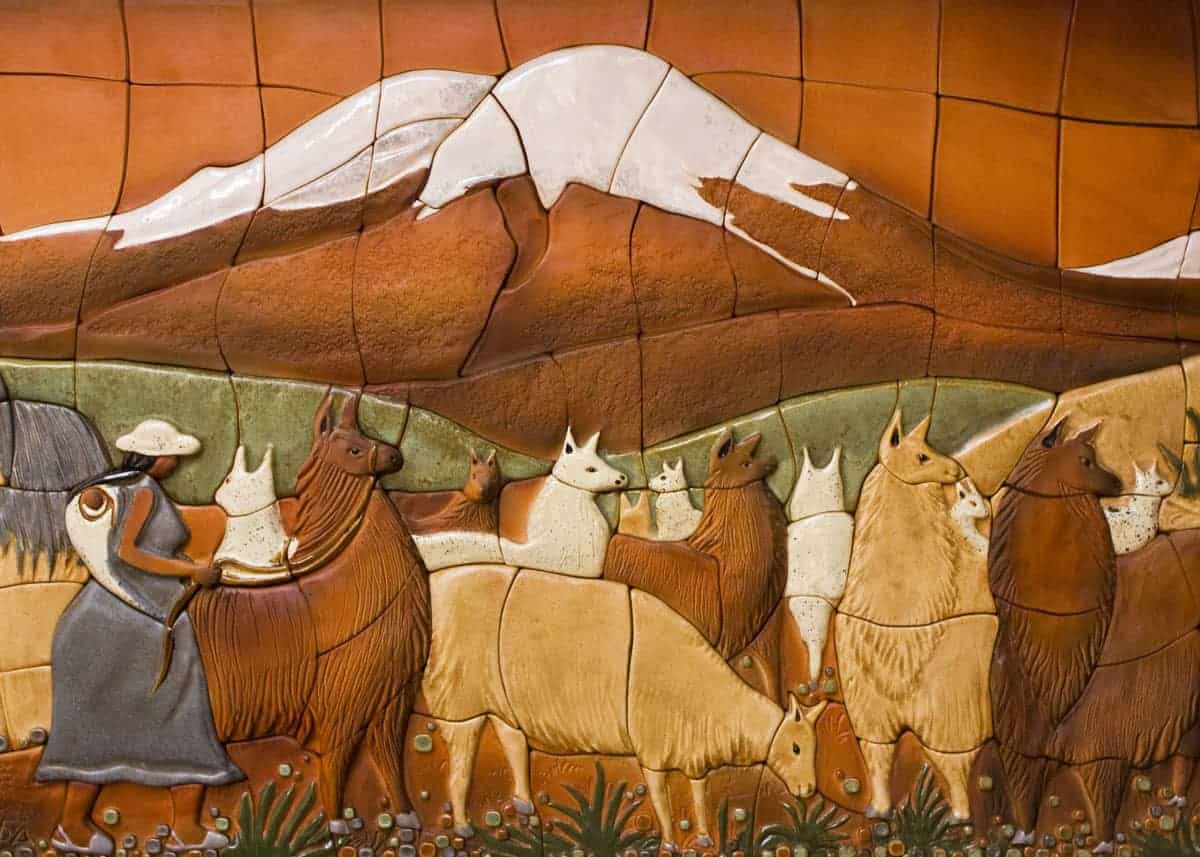 14. Filigree Silver Jewelry
Chordeleg is a small town outside of Cuenca and it is known for its silver jewelry.
In Chordeleg, you can find more than a dozen shops that specialize in silver jewelry. Many make the pieces right there – there are large shops right in town that employ many local artisans. You can get some basic pieces starting at around $12.
Here are a few examples of the filigree (filigrana) silver work from Chordeleg.

The intricacies of this silver work is amazing. Here's an impressive hummingbird ornament – it stood more than a foot high.
Notice the detailed woven work in the second image.

15. Leather
I love the quality of leather products from Ecuador. I have a couple of belts ($12/ea) that I have owned for 5+ years and they still look great. Dena has a couple of leather purses that I don't think will every wear out. The leather is thick and the stitching is solid.
While towns like Gualaceo and Cotacachi specialize in leather, you can buy quality bags, jackets, and purses at small shops across the country.
16. Typical souvenirs (cards, magnets…)
I know. Who needs more magnets or mugs?
Turns out, I'm super happy that we bought some of these mass-produced tourist tchotchke. Stuff like mugs and magnets from the Galapagos and playing cards from Cuenca. They are things we actually use and remind us of our time in Ecuador.
Don't rule out the typical souvenirs. They are generally not that breakable – and quite inexpensive.

When we visited the Galapagos the first time, we bought Drew a shirt that looked the ones that the naturalist guides wear – complete with embroidered Galapagos Park crest.
She loved it, followed the guides everywhere. It made her feel like she was a tour guide too. Best money we spent on the whole trip.

And there you have it. Our picks for the best souvenirs in Ecuador. Did I miss one? Let me know in the comments.
9 Craft Towns in Ecuador
Ecuador still maintains much of the guild town culture from centuries past. Many small towns specialize on one or two specific crafts – and become famous for that.
Here are a few examples from across Ecuador:
San Bartolomé: Guitars
Chordeleg: Silver and ceramic figures
Gualaceo: Orchids and leather shoes
Sigsig: Paja toquilla (Panama) hats
Cotacachi: Leather goods (jackets, boots, bags, shoes)
Otavalo: Handicrafts and woven goods
Iluman: Felt wool fedoras
San Antonio de Ibarra: Wood and stone carving
Montecristi: Panama hats
Did I miss one? Let me know in the comment section.
Visit a Souvenir Shop in Cuenca, Ecuador
To help you learn more about Ecuadorian souvenirs, we want to share this visit we made to a large craft store in Cuenca, Ecuador. The following was written by Dena Haines.
In Cuenca there are so many charming shops with souvenirs and unique handmade objects.

What I love about these shops is that they are tucked away all over the city in old colonial homes that have been converted into unique places of business.
These hidden treasure troves don't usually stand out because the storefront is simply a large open wooden door.
Folklor Latino Artesanias
As I'm walking by I look in and see a narrow hallway full of brightly colored masks, jewellery or knitted clothes. The hall opens into a spacious room illuminated by natural light streaming down from an open sealing.
This larger room is also full of different kinds of crafts made of leather, ceramic, knitted, painted, dyed, woven, carved, and inlay-ed materials.
Here's how to get in touch with Folklor Latino Artesanias here in Cuenca.
Owners are a husband and wife team of Francisco Lopez Cisneros & Irlanda Prado P.
Address: Simon Bolivar between Padre Aguirre and General Torres.

Many of these shops have an open-air courtyard in the center of the building and this is something that I really enjoy. There are often plants, and flowers along with a fountain.

I have yet to meet a shop owner that isn't friendly and very helpful.
If you know a little Spanish, they always want to find out where you're from, why you're here and are more than happy to explain how their interesting items are created.
Visiting local artisans is something I love about traveling around Ecuador.
Your Turn
I hope you enjoyed our collection of the best Ecuador souvenirs – that give a taste of the culture and beauty of the country.
Have a question or item to add? Let me know below!
About the Author
Latest Posts
Hi, I'm Bryan Haines. And I'm a co-founder of Storyteller.Travel. I'm a traveler and photographer.
I also blog about photography on Storyteller Tech.