Looking for Quito Ecuador facts? In this post, you'll learn 18 interesting facts about Quito Ecuador.

We're going to learn about volcanoes, location, sister cities, airports, seasons, altitude sickness, and a lot more!
Read more about the top things to do in Quito Ecuador.
18 Interesting Quito Ecuador Facts
Quito Ecuador is a very popular tourist destination. With its modern and colonial charm, it seems to offer something for everyone.
Let's learn more by diving into these 18 interesting facts about Quito Ecuador:
1. Quito is the highest constitutional capital in the world
It sits at 2,850m above sea level. La Paz (3,650m above sea level) in Bolivia is higher, but La Paz is not the constitutional capital, Sucre is.
This would make a great claim to fame, don't you think?

More reading: Buyers Guide to the Best Sun Protection Hats
Interestingly, Quito's elevation is too high for malaria transmission. The malaria transmission threat stops at 1,500 meters above sea level.
Learn more about where Quito is located.
2. Quito was the first city to be declared a UNESCO World Heritage Site
Back in 1978, UNESCO named two locations in Ecuador: Quito and the Galapagos Islands. You can tell these were first and second among the initial 12 by their UNESCO ID numbers.
3. Quito is South of the Equator
The equator (the line dividing the northern and southern hemispheres) is located just over 200 kilometers north of Quito.
The popular tourist attraction Mitad del Mundo (the middle of the world) is located just 25 kilometers north of the city, but this has been discovered to be an incorrect placement of the actual equator.
4. Neighbor to Furthest Point From Earth's Center
Quito is located just 150 kilometers south-southwest of the location that's the farthest from the earth's center (on the surface of the earth).
The summit of Chimborazo (6,623m above sea level) is the location farthest from the earth's center, not because it's the highest peak on the planet, but because of where it sits on the equatorial bulge.
It is the highest peak near the equator and the highest mountain in Ecuador.
5. The official name of Quito is: San Francisco de Quito
6. Quito is nicknamed "Florence of the Americas"
This comes from the mix of European influence (Spanish colonial red-tile roofs, balconies, and central patios) and indigenous art.
Bogotá (Colombia)
Buenos Aires (Argentina)
Buxton (England)
Coral Gables (Florida USA)
Concord (Massachusetts USA)
Krakow (Poland)
Louisville (Kentucky USA)
Madrid (Spain)
Managua (Nicaragua)
Mexico City (Mexico)
Old Quebec (Canada)
Surabaya (Indonesia)
Toronto (Canada)
8. Quito's Mariscal Sucre Airport is one of South America's Busiest
Quito's international airport, Mariscal Sucre International Airport (UIO) is one of the busiest airports in South America.
It was built in 2013, and is located about 18 kilometers (11 miles) east of the city.
9. Quito's Airport (UIO) Elevation is Lower Than Before
While the old Quito Airport (Mariscal Sucre, Chaupicruz parish) was located at an impressive 9,228 feet / 2,813 meters elevation, it closed on February 19, 2013. This elevation put it among the highest airports in the world.
The new Quito Airport (Mariscal Sucre, Tababela, Quito Canton) sits at 7,874 feet / 2,377 meters above sea level. Around 5,000,000 people travel through this airport each year. It opened in February 2013.
10. Quito Has Best Preserved Historical Center in Latin America
According to UNESCO the historical center of Quito is the best preserved and least altered in Latin America.
11. Next Door to Active Volcanoes
Quito is near two active volcanoes.
Cotopaxi, one of the world's highest active volcanoes, is located just 50 kilometers south of Quito. Its last eruption lasted from Aug 2015 to Jan 2016.
Pichincha Volcano is just 16 kilometers away. In 1999, it covered the city in two inches of ash.
Learn more about volcanoes in Ecuador.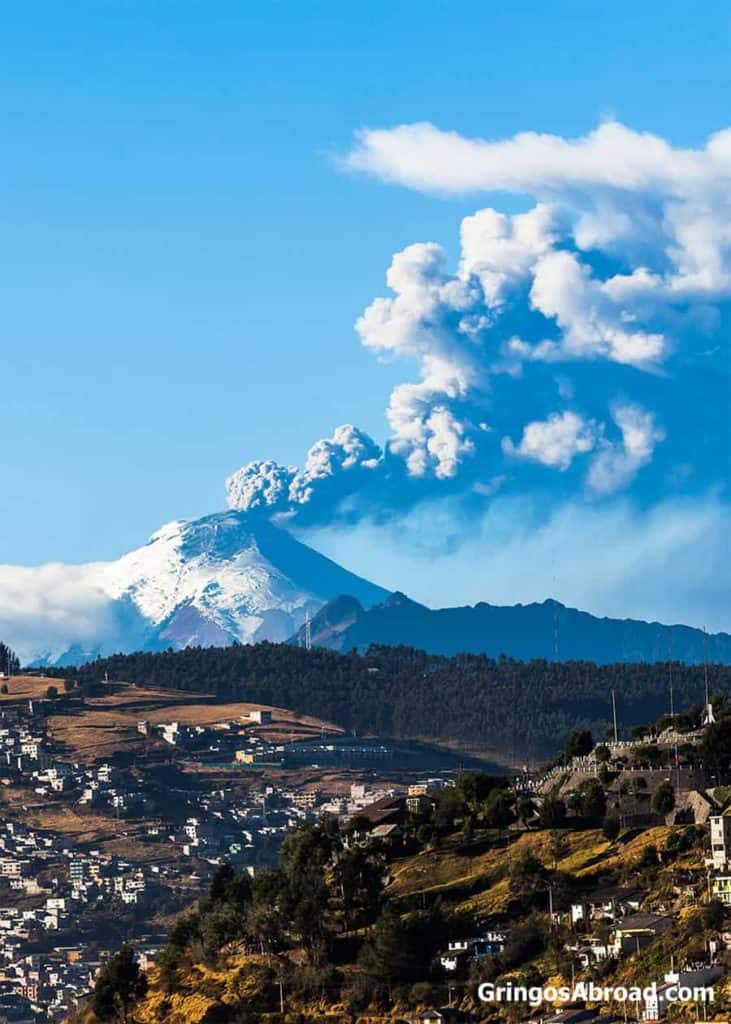 12. Quito is the 2nd most populated city in Ecuador
Quito is number two, right after Guayaquil. Quito's population is around 2,671,191 – according to the 2014 census.
14. The city is built atop the ruins of an Incan city
The Incas were in control of the area from around 1450 until early in the sixteenth century. Quito was founded in 1534 by the Spanish.
15. Quito is surrounded by 8 of Ecuador's 19 volcanoes.
Atacazo
Cayambe
Cotopaxi
Illiniza
Pichincha
Pululahua
Sincholagua
16. There Are Only 2 Seasons in Quito
The dry season (June-Sept) is considered winter. At this time of year it's generally drier and cooler than the wet season.
The wet season (Oct-May) is slightly warmer with more rainfall and is summer in the Andes.
The climate in Quito is a subtropical highland climate, it's comparable to a spring climate in northern North America (think spring in New York, U.S.A. and Toronto, Canada).
But keep in mind that there is no drastic change in the weather throughout the year.
Read our Guide to Weather in Quito Ecuador
17. Altitude Sickness is a Possibility
Some people experience altitude sickness when visiting locations above 2,500 meters above sea level. The symptoms may include nausea, dizziness, headaches, loss of appetite, and insomnia.
If you experience these symptoms when visiting Quito, it's recommended to get lots of rest, drink plenty of water, avoid alcohol & heavy meals, and when you do venture out – ascend higher altitudes gradually.
18. The Sun Sets at Roughly the Same Time All Year
Quito (like the rest of Ecuador) is so close to the equator that there are roughly 12 hours of daylight all year long.
The sun rises sometime between 6:00am – 6:30am (roughly) and sets sometime between 6:00pm – 6:30pm (roughly) all year long.
Quito Ecuador Facts and You
There you have it: our list of 18 Quito Ecuador facts.
What would you consider Quito's claim to fame? Would it be that it's the highest constitutional capital in the world or that it was the first UNESCO World Heritage cultural site? I think they both qualify.
Do you have a fact that's not on the list? We would love for you to add it by commenting on this post.
---
Read about the top 15 things to do in the Andes.
Want to learn Spanish before you visit Ecuador? Check out the best book to learn Spanish.
About the Author
Latest Posts
Hi, I'm Dena Haines. And I'm co-founder of Storyteller Travel. I love to cover food, animals, and destinations around the world.
I also blog about photography at Storyteller Tech.