Thinking about traveling to South America, but wondering which country to go to? In this article, you'll see which countries are considered to be the safest according to data, and not the opinions of tourism marketing. You'll also learn about some interesting places to visit in each country.
The safest countries in South America are Uruguay, Chile, and Argentina. This is according to the Global Peace Index. It compares three factors, which are explained in this post. Other safe countries include Paraguay, Ecuador, and Bolivia.
PLEASE NOTE: The following information on safety is not my personal opinion or from my personal experience. This comes from the 2022 Global Peace Index Report from Vision of Humanity (Download PDF report), which ranks 163 countries around the world. Any travel warnings listed below have been found on travel.state.gov.
Safest South American Countries: Ranking System
How are these countries ranked? The lower the number, the safer the country.
You might be wondering how these countries are ranked. The Global Peace Index uses 23 indicators divided into 3 main sections as to how peaceful/violent an area is. These factors are then assigned a number from 1-5 to show how much weight each carries to their score. This can be found on pages 76 and 77 of the GPI.
As a quick summary, here are the 3 main sections that determine each country's score:
Ongoing Domestic and Internation Conflict: Duration and intensity of conflicts, number of deaths, and relationship to neighboring countries are some of the factors looked at.
Societal Safety and Security: Political instability, refugees, terrorism, violent crimes, murders, number of incarcerated, and police are some examples of this section.
Militarisation: Military expenses, armed services personnel, how much contributed to UN peacekeeping missions, and nuclear and heavy weapons capabilities are some points that contribute here.
The guide is part of an ongoing series covering regions around the world. Learn more about the safest countries in Africa, Central America, Asia, and Europe.
8 Safest Countries in South America: The List
Here is the list of the safest countries in South America, with some stats on crime and safety.
You'll also learn about some things to do if you decide to visit. Let's begin!
1. Uruguay
Safety Score: 1.795
Worldwide Rank: 46
Population: 3,422,794 (2022)
Capital City: Montevideo
Tourists Per Year: 3,000,000 (2019)
Uruguay is considered to be the safest country in South America. In fact, it's one of the top 50 safest countries in the world for 2022.
For places to visit in Uruguay, the capital city of Montevideo is a popular tourist destination. If resorts are more your speed, then the seaside resort city of Punta del Este might be the place for you. You could also visit the hot springs of Arapey or Daymán.
According to travel.state.gov, Uruguay is at a level 2 advisory, or to exercise increased caution due to crime. Some advice would be not wearing or displaying signs of wealth, and being careful in the dark.
2. Chile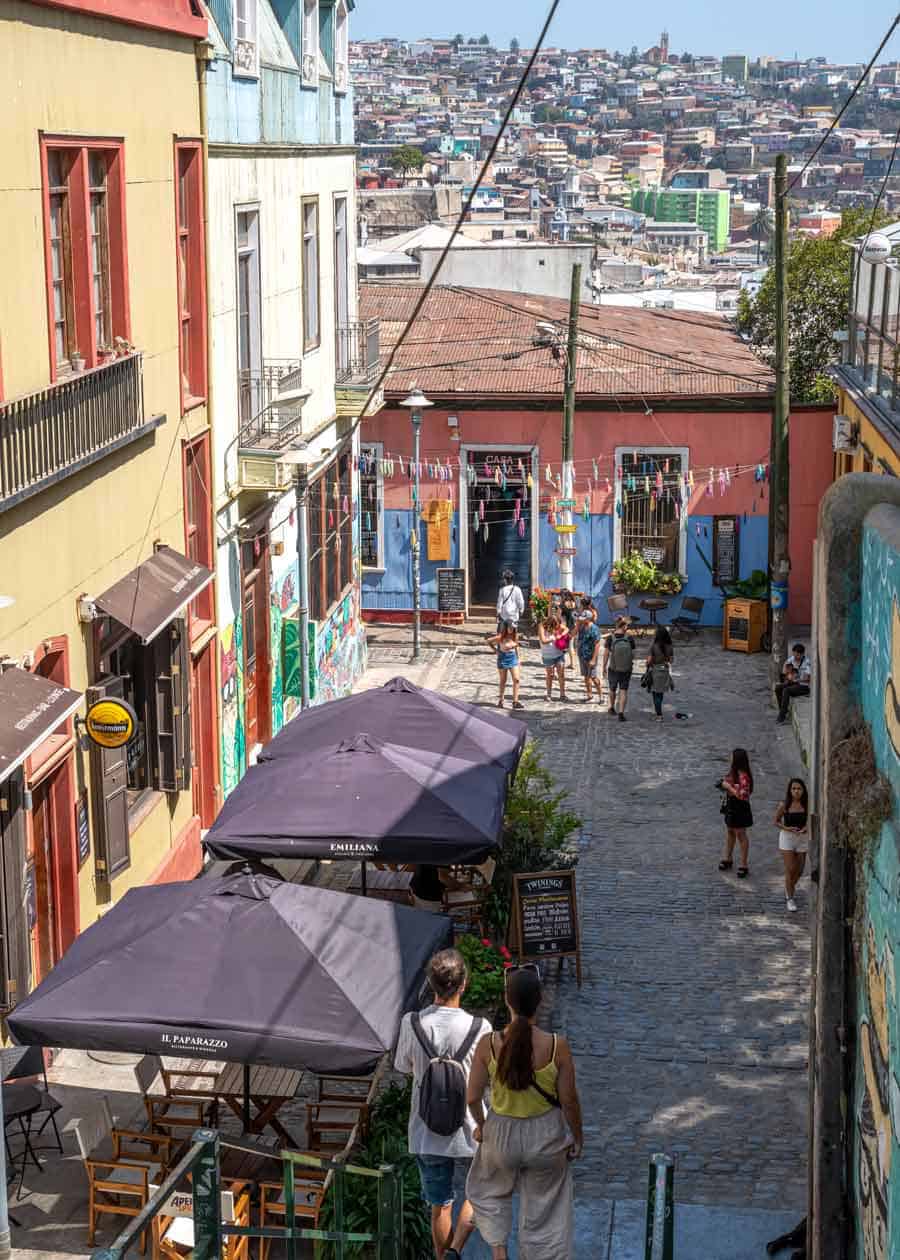 Safety Score: 1.84
Worldwide Rank: 55
Population: 19,450,473 (2022)
Capital City: Santiago
Tourists Per Year: 5,000,000 (2019)
Chile is number 2 on this list, and just outside the top 50 in the world. This long and thin country, with a coastline of over 4,000 miles (6,437 km) and only 61 miles (91 km) wide, boasts a variety of tourist spots.
If you're looking for some nature tourism, Chile might be just for you. From visiting the Andes Mountains to the Atacama Desert (the driest place on Earth), or taking a flight to Easter Island, you won't be bored in this country.
Some caution is needed when traveling in Chile (Level 2 caution; travel.state.gov). Some civil unrest and demonstrations on a bigger scale can happen in Santiago or other cities. Some advice given by travel.state.gov is to keep a low profile, avoid demonstrations, and obey instructions of the local authorities (including curfews).
Here are some of the most popular Chilean foods, including traditional dishes, drinks, and desserts.
3. Argentina
Safety Score: 1.911
Worldwide Rank: 69
Population: 47,427,407 (2022)
Capital City: Buenos Aires
Tourists Per Year: 7,400,000 (2019)
Argentina is number three on our list, and it seems to have it all.
Want to go to the most southern city on Earth? Visit Ushuaia, where you can go skiing, hiking, or take a cruise to Antarctica. Want to see some glaciers? You can visit Perito Moreno Glacier in Los Glaciares National Park. Want something on the warmer side? How about Mar del Plata Beaches, Argentina's top resort city?
Despite being number three on this list, travel.state.gov has Argentina at Level 1, which is to exercise normal precautions when traveling there. Argentina also has the most amount of tourists per year of the countries on the list.
4. Paraguay
Safety Score: 1.976
Worldwide Rank: 77
Population: 7,311,023 (2022)
Capital City: Asunción
Tourists Per Year: 4,370,000 (2019)
Paraguay is number four on our South American safety list, and number three for the number of tourists.
You can visit such natural sites in Paraguay as the Salto Monday waterfalls, the Rio Paraguay, and Ybycuí National Park. Or if engineering is your thing, you can visit the Itaipú Dam, which in 1994 was elected as one of the Seven Wonders of the Modern World by the American Society of Civil Engineers.
Itaipú Dam is on the Parana River, one of the longest rivers in South America.
Travel.state.gov has Paraguay at a Level 1 travel advisory, meaning to exercise normal precautions, with some areas having an increased crime risk (like Amambay, Alto Paraná, Canindeyu, San Pedro, and Concepcion departments).
5. Ecuador
Safety Score: 1.988
Worldwide Rank: 79
Population: 18,122,279 (2022)
Capital City: Quito
Tourists Per Year: 2,000,000 (2019)
The fifth safest South American country, Ecuador has many incredible places to go despite its relatively small size.
You can visit the world-famous Galapagos Islands (and the Galapagos Giant Tortoises), climb Mount Chimborazo, take in some history in Quito, or relax on beautiful beaches like Montañita or Salinas.
You might want to visit some of Ecuador's famous landmarks, national parks, or volcanoes.
For more information on things to see in Ecuador, check out Best Things to Do in Ecuador (Epic Guide).
Due to civil unrest and crime, Ecuador is at a Level 2 advisory. At the time of writing, these areas are to be avoided due to crime: Carchi, Sucumbíos, Esmeraldas city (and the northern part of Esmeraldas provinces), and south of Portete de Tarquí Avenue in Guayaquil.
6. Bolivia
Safety Score: 1.989
Worldwide Rank: 80
Population: 12,224,110 (2022)
Capital City: Sucre (official, judicial capital); La Paz (de facto, administrative capital)
Tourists Per Year: 1,240,000 (2019)
Bolivia, the sixth safest country in South America, has many attractions to choose from.
You can visit the Uyuni Salt Flats, the world's largest salt flat at over 3,900 square miles (over 10,000 square kilometers). There are also 6 UNESCO world heritage sites to choose from, the ruins of Tiwanaku, parts of the Amazon, and Fort Samaipata. Then there's Lake Titicaca, the highest lake that large ships can navigate.
Bolivia is at a Level 2 advisory due to civil unrest, so keep an eye out for demonstrations, strikes, and roadblocks.
Check out these 25 tasty Bolivian foods.
7. Peru
Safety Score: 2.091
Worldwide Rank: 101
Population: 33,697,187 (2022)
Capital City: Lima
Tourists Per Year: 5,280,000 (2019)
Peru is the seventh safest country in South America, and the only country in South America I've been to, personally traveling there with a good friend in 2013.
The capital, Lima is a cool city with many sites to explore. No doubt, if you're traveling to Peru, you're wanting to see Machu Picchu and Cusco, which are definitely worth the trip (though be warned, altitude sickness is a real thing. I was down for three days because of it in Cusco). My friend and I were also able to experience sandboarding on dunes just outside of Lima, a must-try in my opinion.
That being said, at the time of writing, due to increased crime in certain areas, Peru is currently at a Level 3 advisory (reconsider travel). There are warnings to avoid traveling to certain areas altogether.
Have you heard of these delicious Peruvian foods?
8. Guyana
Safety Score: 2.14
Worldwide Rank: 107
Population: 794,304 (2022)
Capital City: Georgetown
Tourists Per Year: 315,000 (2019)
Guyana rounds out our list of safest South American countries and is the only country with English as its official language.
Not a lot of people visit Guyana per year, but there are definitely some beautiful places to visit. You can visit the Kaieteur Falls, the world's largest single-drop waterfall. Other attractions include the Essequibo River, Iwokrama Canopy Walkway, and looking for one of the world's largest water lilies, the Victoria amazonica.
Guyana is at a Level 3 advisory due to crime, like Peru. It would be wise to follow such advice as not traveling in the dark and not displaying any signs of wealth.
FAQ About Safety in South America
What is the safest country in South America?
The safest country in South America is Uruguay. All of these countries in the top 8 list above rank higher than the United States (129) in the GPI.
What is the safest Spanish-speaking country in South America?
The safest Spanish-speaking country in South America is Uruguay.
See more in our Guide to Spanish Speaking Countries.
What is the most stable country in South America?
Uruguay is the most stable country in South America, having been in the top two in the GPI for South America since 2018 (or 5 GPI reports), and number one in the last three reports.
Argentina has consistently scored similar scores (1.911 to 1.989) in the last 5 reports. On the other hand, Chile, despite being at number two in 2022, has had a wider range of scores, going from its lowest score of 1.634 to 1.84 over the last few reports.
What are the most dangerous countries in South America?
Venezuela (148th worldwide) is considered the most dangerous country in South America, and one of the most dangerous in the world, according to the GPI 2022.
Brazil and Colombia (130 and 144 worldwide respectively) round out the three most dangerous countries.
Why is there a country missing from the list?
The Global Peace Index only covers 163 countries around the world, which includes 99.7 percent of the population. Depending on which estimate or definition of "country" you see, there could be as many as 206 countries in the world, so the GPI doesn't cover all of these areas, for whatever reason.
So a South American country like Suriname is not listed in the GPI. Another reason is that certain countries may be linked to other areas, like Trinidad and Tobago (Central America) and French Guiana (France)
Your Turn!
This is a quick guide to the safest countries in South America. But like with any travel plans (not limited to South America), please do more research and exercise caution, so you can have a safe and enjoyable trip.
Where do you want to travel in South America? Where have you already gone, and what did you experience there? Is there anything we've missed? Let us know in the comments below!
About the Author
Latest Posts
Hello, I'm Joshua Diegor. My love for travel began I was 18 when I went with some friends to New York City. All in all, I've traveled to 6 continents and 14 countries.
I'm a regular contributor to Storyteller Travel.