Here are 15 things to do in Uganda. They include gorilla trekking and animal safari, adventure sports, cultural events and much more.
15 Incredible Things to do in Uganda
Nicknamed the "Pearl of Africa" by Sir Winston Churchill, Uganda offers a smorgasbord of impressive attractions and unique things that you can't see or do anywhere else. Not only can you go mountain gorilla trekking in Uganda, but can also stand in two different hemispheres at once in this country.
Amazing wildlife, awe-inspiring waterfalls, grand lakes, vibrant culture, and heart-racing adventures all await you in Uganda. So, if you are pumped and ready to learn more, check out the following 15 incredible things to do in Uganda.
1. Straddle the Equator
The best place to straddle the equator in Uganda is Kayabwe of the Mpigi District where you will find a smattering of souvenir shops and restaurants. You will also find an equator landmark in Queen Elizabeth National Park.
Learn more about Uganda's location on the equator.
2. Go on a Ugandan Safari
Going on a safari trip to see African wildlife ranks near the top of things to do in Uganda. You will discover many expert tour guides and outfits that know exactly where to take you for the best chances to observe the likes of Cape buffalos, elephants, giraffes, lions, antelopes, chimpanzees and more.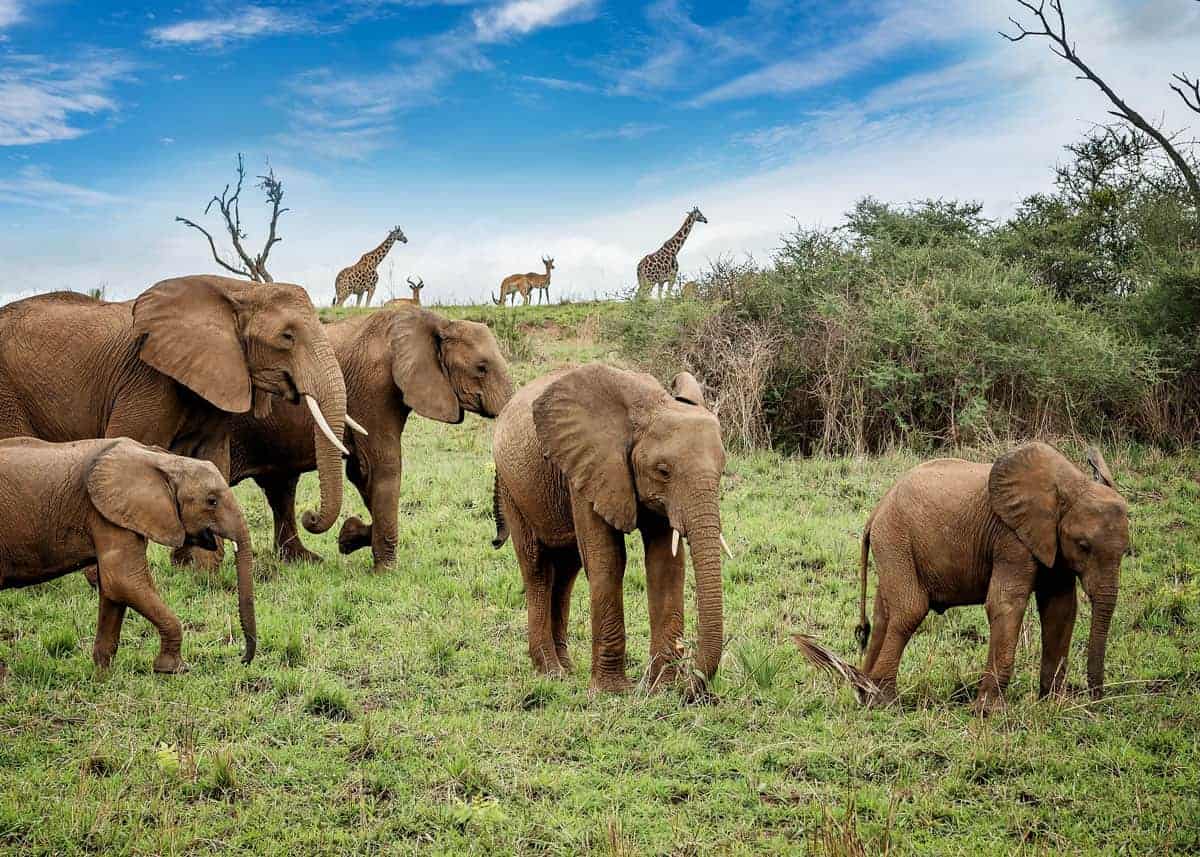 Don't forget about the equatorial sun! Here's how to choose the best sun protection hat for Africa.
Some of the best places in Uganda to take a safari include Queen Elizabeth National Park, Murchison Falls National Park, and Bwindi Impenetrable National Park.
3. Join a Gorilla Trekking Tour
Of all the many thrilling things to do in Uganda, the number one on many tourists' bucket lists is going on a trekking tour to see the mountain gorillas.
The mountain gorillas are an endangered species of less than 1,000 total individuals and can only be seen in three places in the world which include Uganda, Rwanda, and the Democratic Republic of Congo. Uganda's Bwindi Impenetrable Forest is home to the largest number of mountain gorilla families.
More reading: Is Uganda Safe? Guide to Water, Crime, Disease, Sun
These facts alone make gorilla trekking in Uganda a once-in-a-lifetime experience. Wildlife authorities in Uganda enforce strict rules for gorilla trekking in order to protect both the primates and tourists, so you will need to first obtain a permit before joining up with an established trekking company that knows how and where to track the gorilla families.
4. See Where the Nile Begins (Test Your Adrenaline with Extreme Sports)
Most people know that the Nile River is the largest in the world, but did you know that it begins in Uganda? When you are in the area of the Murchison Falls National Park, you will be near the town of Jinja where the mighty Nile starts.
If that isn't exciting enough for you, the town of Jinja and the surrounding area is known as the "adrenaline capital of East Africa."
You can enjoy the exhilarating thrill of extreme adventures such as bungee jumping, mountain biking, kayaking, horseback riding, whitewater rafting, and quad-biking.
5. Explore the Majesty of Murchison National Park
While you are exploring Jinja and the Nile River, you will be nearby Murchison Falls National Park.
This is the country's largest national park and one of the best places to see Africa's Big Five that includes the endangered Rothschild giraffes, which are the tallest of giraffes.
More reading: How Strong is a Gorilla?
This national park is also a bird watching paradise with more than 450 bird species that include the elusive shoebill. Last but not least, you can't miss the spectacular waterfall from which the park is named. Whether you go by safari or boat cruise, you will see why this enormous waterfall is considered one of the most powerful in the world.
6. See Wild Rhinos at the Ziwa Rhino Sanctuary
You may find it difficult to see wild rhinos while on safari in Uganda due to their numbers being mostly wiped out by hunters.
However, thanks to the Ziwa Rhino Sanctuary, seeing these beautiful creatures is still one of the exciting things to do in Uganda.
Located in Nakasongola on the way to Murchison Falls National Park, this wildlife reserve not only offers guided trekking tours to see the rhinos but also hippopotamuses, antelopes, crocodiles, and more than 250 bird species in addition to canoe cruises and scenic nature walks.
7. See the Tree-climbing Lions of Queen Elizabeth National Park
Among the intriguing things to do in Uganda that you can't do in other places is see tree-climbing lions. Your best chance of seeing these odd lions is in the Ishasha region of Queen Elizabeth National Park. Since the lions hunt by night and sleep most of the day in the trees, you may be able to spot them between 8 a.m. and 6 p.m.
While you're in this national park, you will appreciate opportunities to glimpse other wildlife species as well as enjoy hot air balloon rides, boat cruises on the Kazinga Channel, and scenic drives to see Crater Lake, Mountains of the Moon, and the Blue Mountains of the Democratic Republic of the Congo.
8. Experience Traditional Culture of Ugandan Tribes at the Nedere Centre
You can't go to Uganda and not experience the country's traditional dance and music. One of the best places to do this is the Nedere Centre in Kampala.
Opened every Wednesday, Friday and Saturday evening, the Ndere Centre features a 700-seat venue where you will be mesmerized by the high-energy shows displaying the vibrant costumes, dances, and music that represent the culture of local Ugandan tribes. You may even get to try some local foods at the barbecues hosted by the Nedere Centre.
9. Retreat to the National Botanical Gardens
If you find yourself in need of a beautiful place to relax and catch your breath during your Uganda travels, the National Botanical Gardens is the place.
Located near Lake Victoria in Entebbe about an hour outside of Kambala, this sprawling garden complex offers you biking trails and nature walks through lush landscapes of various trees, plants, and flowers while monkeys, squirrels, butterflies, and birds frolic around you.
If your visit is during November, you may enjoy the festivities of the Annual Milege World Music Festival that is held here each year.
How's your Swahili? Check out our guide to 100+ animal names in Swahili.
10. Get Up Close to African Reptiles at the Uganda Reptile Village
Seeing amazing wildlife is one of the most popular things to do in Uganda, and that includes reptiles. While you're in Entebbe, check out the Uganda Reptile Village, a sanctuary for endangered reptiles.
You will see 20 different species here that include crocodiles, chameleons, turtles, cobras, monitor lizards, and Africa's most poisonous snake, the gaboon viper. Spend a little time in the education center to learn more about these reptiles and come away with a better appreciation for African wildlife.
11. Enjoy Outdoor Recreation at Lake Victoria
It wouldn't seem right to travel to Uganda and not take time out to visit the largest lake in Africa.
Not only does Lake Victoria offer picturesque views and stunning photo opportunities but a wide range of outdoor activities as well.
You can enjoy fishing, water sports, boat cruises, picnics, birdwatching, cultural walks through local villages, and hiking trails that lead to ancient rock art sites. You may also get the opportunity to see amazing wildlife species such as crocodiles, hippopotamuses, turtles, and otters just to name a few.
While visiting Lake Victoria keep in mind that a parasite known as Bilharzia makes swimming in Lake Victoria a risk. It is also becoming more common to hear about attacks from the Nile crocodiles or hippopotamus because much of their smaller pray have been hunted away
12. Escape to the Unspoiled Ssese Islands
You may fall in love with Lake Victoria so much that you never want to leave. If that's the case, you may want to spend some time on the lake's 84-island archipelago known as the Ssese Islands.
Looking for the best safari hat? Check out our guide to African Safari Hats for Bush and Jungle Adventures.
A popular tourist destination, the Ssese Islands offers you plenty of things to do in Uganda. You can laze the days away on beautiful, sandy beaches or go sailing, boating, fishing, hiking or horseback riding.
Take a forest walk and count how many chimpanzees you see. Meet the Bantu people who live nearby and learn about their customs and culture.
13. Owino Market
Visiting markets while traveling in other countries is a great way to not only see the various foods and products that are produced by different cultures, but it is also an excellent way to experience the language, customs, and vibe of the local people.
One of the largest and best markets you can visit in Uganda is the Owino Market in Kampala. Browse through a colorful array of produce, electronics, African print fabrics, and handicrafts while watching vendors and customers haggling over prices. Be sure to try some local cuisine at the food stalls.
Learn more: Uganda Currency: 12 Things to Know
14. Tour the Kasubi Tombs to Learn about Uganda's Royal Kingdom
While you are in Kampala, head over to the Kasubi Tombs where you can delve into the intriguing history of Uganda's royal family and the Buganda Kingdom, the country's largest tribal kingdom.
This historic site features the remnants of a 35-building palace and burial grounds of former Ugandan kings and their royal family members. A guided tour of the site allows you to view artifacts, learn about the traditions and rituals of the Buganda Kingdom, and admire remarkable architecture constructed from vegetational materials.
15. Sample Ugandan Cuisine
Trying the local cuisine of a different country only enhances your overall travel experience, so one of the best things to do in Uganda is sample some of the country's most popular foods.
Roadside stalls and markets offer fresh fruits such as plantains, roasted meat on sticks, and fried breads wrapped around omelets with vegetables (known as rolex).
Check out our Uganda Food Guide (16 Must Try Dishes for Your Visit)
At restaurants, you are likely to be served traditional dishes such as luwombo (fish, beef or chicken steamed in plantain leaves with peanut sauce) or chaloko, a hearty meal of pinto beans, onions, green peppers, and onions served with posho (doughy cornmeal mixture).
Learn more about the 18 largest cities in Uganda.
We recommend picking up a travel insurance policy before traveling to Africa. It can cover surprise visits to a medical clinic and protect your belongings should they get lost or damaged.
Uganda may be a small country in size, but it packs so many great attractions and unique adventures that you couldn't possibly experience them all in one trip. This list only covers some of the country's most popular highlights.
Other exciting things include visiting historic sites, palaces and temples in the capital city, touring tea and coffee plantations, seeing the stars at night like you've never seen before, and meeting the Batwa tribe, descendants of Uganda's first people. So, what are you waiting for? Uganda is calling you!
About the Author
Latest Posts
Hi, I'm Dena Haines. And I'm co-founder of Storyteller Travel. I love to cover food, animals, and destinations around the world.
I also blog about photography at Storyteller Tech.