Have France on the brain? In this huge guide, you'll learn 79 facts about France, including travel, food, expat, culture, national symbols, politics and more. Plus lots of photos and videos.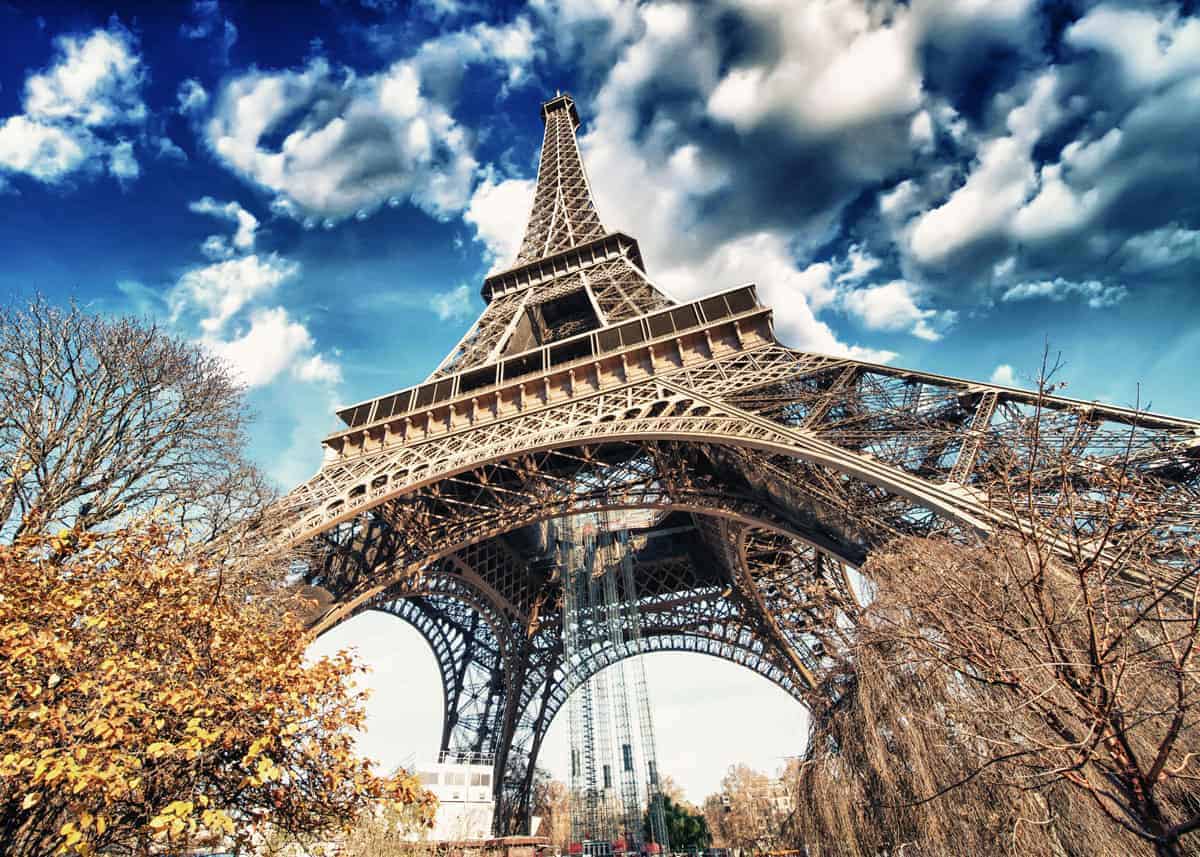 79 Facts about France
France is one of the most romantic countries in the world and one of the most popular too. In this article, I'll go over some of the top facts about France that you should know before traveling or visiting. I'm pretty sure that you'll find some France facts that you never knew.
Basic Facts About France
1. What is France's official name?
Though most people refer to the country as just France, it actually has an official name that you might not know. That name is the French Republic.
In addition to metropolitan cities such as Paris, the country also consists of several small territories around the western region of Europe and in some other areas.
2. What is France's population?
The official population of France was 67.12 million people when last recorded in 2017.
This equates to 271 people per square mile. More than 65 million of those residents live in metropolitan areas, with the remainder residing in the country and rural settings, usually in the south of France. The population of the country is on the rise.
This makes it one of the largest countries in Europe in terms of population alone. By comparison, the UK only has around 66 million residents while Germany is home to more than 82 million people.
3. Where is France located?
Though considered part of Western Europe, it is in both the western and northern regions of that continent. France shares its borders with several different countries, including Germany, Spain, Switzerland, Belgium, Italy, and Luxembourg.
France played a pivotal role during World War II because of its location on the water.
Map of France
4. What time is it in France?
France is in the Central European timezone (GMT+1).
During the summer months, the country follows the Central European Summer Time, which is GMT+2 (UTC+2). UTC+2 is the European version of daylight savings time.
With its 5 overseas territories, France uses 12 different time zones, more than any other country in the world.
You can convert time zones here to see the current time in France.
5. When does the sun set in France?
The sun typically sets in France around 6:30 pm during the winter. It usually sets later in the night during the summer when the days are longer – as late as 9:55 pm.
You may find that the sun sets and rises at slightly different times when you travel outside of Paris, especially as you head south.
Watch on YouTube
6. What are citizens of France known as?
French is the most common term used to describe the citizens of France. This is the same term used to describe the official language that they speak.
The terms Parigots and Parisians refer only to those who live in or are from Paris. Most residents prefer the term French though when talking about themselves.
7. What is the capital of France?
It's not surprising that the capital of France is Paris.
Prior to 486, the small town of Tournai served as the French Capital. Other cities that served as the Capital include Orleans, Troyes, and Versailles. Vichy also served as the Capital during World War II before Paris took over in 1944.
8. What is life expectancy in France?
The average life expectancy in France is 82.27 years old.
A study found that French women live longer than women from almost any other country. The average life expectancy is 88.6 for women and 81.7 for men.
One reason for this long life expectancy is the health care available in the country. France provides health care for all its residents.
9. What religions are in France?
France played a key role in several major battles fought over religious beliefs, which might explain why it's so welcoming of different religions today.
More than 51% of those living in the country identify as Christians. Nearly 40% of residents claim that they follow no established religion. A small number of people in France identify as Jewish or Muslim as well.
10. Common misspellings of France
Common misspellings include Franse and Frence. Some also use the term French when they mean the country.
Those learning French often make some misspellings and errors when reading and speaking the language. Most people do not misspell the name of the country though because it contains just six letters.
---
Facts About France Travel
11. Hows the weather in France?
You might look for facts about France because you want to move there or visit. One thing you need to know is the weather.
France is part of a small Mediterranean region that is also oceanic. Certain parts of the country are warmer or cooler than other parts.
The South of France has a strong reputation for its beaches and its warm climate, while Paris and other cities in the north get snow and ice during the winter.
12. What is the best time to visit France?
The best time to visit France is during the period called the shoulder season, which runs from April to the middle of June.
Shoulder Season often includes the early fall, from September to October. This is when the weather is nice but there are fewer tourists. You may find discounts on hotel rooms and attractions too.
13. What is France's currency?
Though France used the franc for many years, it now uses the euro (€) because it is part of the European Union (EU).
You typically get one euro for every 1.14 American dollar, though the conversion changes fairly often. Using this currency converter helps you see how far you can stretch a dollar on your trip.
14. Do I need a power adapter when I visit France?
As France has different outlets and plugs than we have in the United States, you will need a power adapter if you plan to use electronic devices on your trip. Something like this one.
You can usually pick up an adapter before your trip or at the airport that lets you use all your electronic devices during your visit, including cell phones and laptops.
15. What plugs are used in France?
France uses both Plug Type C and Plug Type E. Type E has two standard holes and a separate plug on the top, while Type C has just the two plugs.
If you attempt to use an American device (such as American hair dryers or curling irons)or one from another country without the proper adapter and voltage converter, you risk causing an electrical short or a fire.
16. What are France's international airports?
International airports make it easy for you to get to any destination in France and to get back home again.
Charles de Gaulle International Airport is the busiest one in France and also one of the busiest in the world. It has more than 100 airlines flying to more than 200 destinations.
Some of the other international airports in France include Marseille Provence Airport, Nice-Côte d'Azur Airport, and Lyon Saint-Exupéry Airport.
17. What languages are spoken in France?
The primary language spoken and used in France is French. More than 87% of the country's residents use this language.
Regional languages are popular in different parts of the country too. Germanic languages such as French Flemish are common in specific areas. Other regional languages spoken in France include Celtic, Italian, English, and Basque.
18. How many tourists visit France every year?
France is one of the most popular tourist destinations in the world and sees more than 80 million tourists visit each year.
The largest number of visitors come from different parts of the EU, but more than three million visitors come from the United States. They typically visit areas such as Paris, the French Riviera and the French Alps.
19. What are France's most popular landmarks?
Paris is one of the top destinations for tourists because they want to see the Eiffel Tower and The Louvre. Some of the other tourist destinations and popular landmarks in Paris include:
Eiffel Tower
The Louvre
Arc de Triomphe
Grand Palais
Disneyland Paris
Grand Mosque of Paris
Opera Bastille
French Riviera
Loire Valley
More reading: 17 Best Expat Books About Moving Abroad
Millions of visitors also head to the French Riviera, which gets an average of more than 200 days of sun a year. The Loire Valley is popular because the region is home to many different historic castles and sites.
20. Is France a safe place to visit?
France is generally safe to visit.
As with travel to any country, it's a good idea to ask locals for recommendations on where to go and which areas to avoid.
It's also helpful to look more like a local and less like a tourist, which will help you stand out from the crowds. The one thing you should consider is the scams that occur around tourist spots and landmarks. You should never open your wallet or purse on the street to give money to a beggar, even if you think they need help.
21. What are France's 10 best beaches?
Between the South of France and the French Riviera, you'll find some great beaches in France.
Corsica is popular with history buff because it was Napoleon's birthplace and the beach he returned to later in life. Nice is a top choice for those who love arts and culture, while those who want to hobnob with the rich and famous choose the French Riviera.
Some of the other top beaches in France include:
Pampelonne Beach, Saint Tropez
Biarritz
Antibes
Les Calanques de Cassis
Prado Beaches
Île de Ré
Deauville Beach, Normandy
Palombaggia Beach, Porto Vecchio, Corsica
Porquerolles Island
Paloma Beach, Saint-Jean-Cap-Ferrat
You can also visit Normandy and see where the soldiers landed during World War II.
Watch on YouTube
22. What are the most famous events in France?
The most famous event that takes place every year is the Tour de France, which brings in cyclists and fans from around the world.
If you visit during the holidays, you can see all the gorgeous decorations in the major cities too. Mardi Gras is another event that you won't want to miss. Many visitors also come to France for Bastille Day. These are just a few of the top events in France.
Geography Now! France Video
Watch on YouTube
---
Geography of France
23. How large is France?
France measures approximately 247,573 square miles (643,801 square kilometers).
This includes both Metropolitan France and it's 5 overseas territories.
Metropolitan France includes only the main country and the borders that it shares with other countries. This region measures more than 213,000 square miles in size. Both of these measurements do not include any of the regions that France maintains in other parts of the world.
24. What World Heritage Sites are in France?
There are 44 World Heritage Sites in France and more than 40 sites on a tentative list.
Many of the World Heritage Sites are open to the general public and allow visitors to learn more about the history of the country.
Those sites include: the Decorated Cave of Point d'Arc and its prehistoric sites, Roman Theatre, Provins and Palace and Park of Versailles.
25. What is France's largest city?
Though France is home to many large cities, the largest is Paris.
More than 2.2 million people reside in the city, but this figure is on the rise. Some of the other large cities in France include Marseille, Lyon, Toulouse, and Nice. Many of these cities are home to more than one million residents.
26. What are France's biggest cities?
If you want to look at France facts to get an idea of where you might live or visit, you may want to learn about the major cities in the country.
Here are the 10 largest cities in France, with population:
Paris (2,229,621)
Marseille (855,393)
Lyon (500,715)
Toulouse (458,298)
Nice (342,295)
Nantes (292,718)
Strasbourg (275,718)
Montpellier (272,084)
Bordeaux (243,626)
Lille (231,491)
Paris is the largest in terms of both size and population. As many residents speak English, you can feel comfortable there. Lyon and Marseille are among the other major cities in France.
27. How many regions in France?
Though France previously used provinces, it now uses the term regions to describe the individual territories within the nation.
There are now 18 regions in the French Republic.
Mainland France: 12 (Metropolitan France)
Europe: 1 (Corsica)
Caribbean: 2 (Guadeloupe and Martinique),
South America: 1 (French Guiana)
Africa: 2 (Mayotte and Reunion Island)
28. What is the highest elevation in France?
The highest elevation in France is in the French Alps. Mont Blanc, which sits on the shared border between France and Italy, stands approximately 4,808 meters tall.
Not only is this the country's highest peak, but it's also a popular destination for tourists from Europe and other parts of the world who love winter sports.
29. Does France have a lot of mountains?
Though France does not have a lot of mountains, it is home to the French Alps.
Called one of the best destinations for skiing in the world, the French Alps connects ski areas in France and Italy. Those 16 ski resorts and areas have a combined total of more than 2,100 slopes.
30. How many islands in France?
In addition to the main country, France is also home to 24 islands. Many of those islands are right off the coast.
Reunion is the largest island and has a population of more than 800,000.
Martinique sits in the Caribbean Ocean and is home to more than 400,000 people.
Other islands in France include Tahiti and Corsica.
31. What are the top 10 famous places in France?
The most famous place in France is the Eiffel Tower in Paris closely followed by The Louvre, which holds one of the world's largest collections of artwork.
Many visitors also pick the Cathedral de Notre Dame and the Palace of Versailles among the nation's most famous places. Other spots worthy of this list include:
Eiffel Tower
The Louvre
Champs Elysee
Cathedral de Notre Dame
Palace of Versailles
Disneyland Paris
Montmartre
Mont Blanc
Côte d'Azur
Mont Saint-Michael
32. How many national parks in France?
France is home to 10 national parks. Each park offers a wide range of activities for visitors such as hiking through the mountains and fishing on beautiful lakes.
Some of the parks you may want to visit on your trip include:
---
Politics of France
33. What type of government does France have?
France has a semi-presidential, democratic government that allows citizens and residents to vote on those who will lead the country.
Emmanuel Macron is the current President of France and is responsible for appointing a Prime Minister.
Édouard Philippe is currently the Prime Minister of the country.
34. How stable is the current government?
If you worry about moving to or visiting France because of the political climate, you shouldn't worry. The current political climate is quite stable.
Though you may find some anti-American sentiments, most residents are friendly and will welcome locals. President Macron has a deep interest in helping the nation's economy and keeping its finances stable.
35. How many national political parties are in France?
There are three main political parties in France:
La République En Marche!
The Republicans
Socialist Party
The Democratic Movement is also popular and represents 42 members of the National Assembly.
With more than 30 political parties, locals have no issues finding a party that represents their beliefs and ideas. Some of those groups include Generation S, Left Wing, Radical Movement, and the Communist Party.
---
Business in France
36. What is France's largest export?
France is one of the largest agricultural and manufacturing exporters in the world.
It exports more than $561 billion worth of goods each year and imports more than $640 billion worth of goods. More than 16% of those goods go to Germany. Other export partners who work with France include Belgium, Italy, the Netherlands, and the UK.
37. What Are France's major exports?
More than 11% of the goods exported by France every year are manufacturing components and machinery such as computer and computer parts. Both aircraft and automobiles make up more than 18% of the items exported too.
Some of the other major exports of France include: prescription medications, beverages and perfumes, and cosmetics.
38. What is the minimum wage in France?
Anyone from another country who wants to work in France must have a work permit.
France has a minimum wage for all workers of €9.88 per hour, which allows full-time workers to make more than €1,400 per month before the government takes out taxes. The country increased its minimum wage in January of 2018.
39. Who are France's major trading partners?
Most of the major trading partners who work with France are the countries that share its borders.
A large number of exported and imported goods go to and come from Germany. Nearly 10% of the automobile and manufacturing parts exported by the country go to the United States. The UK and Italy are major trading partners with France too.
---
Food in France
40. What food is most popular in France?
Though France has a reputation for the wines that it produces, the most popular food in the country is bread.
Baguettes are quite popular. This type of bread comes in a long and thin loaf with a soft interior and a crunchy exterior.
Soups are also popular as are cheese boards that feature meats and cheeses produced around the country.
41. What kind of food is traditional in France?
Many French people consume sandwiches on baguettes with a thin layer of meat and cheese between the bread.
When you visit or move to the country, there are some regional dishes that you shouldn't miss such as beef bourguignon and onion soup.
Some of the more classic and traditional French foods include Croque Monsieur sandwiches, chocolate mousse, cassoulet, bouillabaisse, and coq au vin.
42. What can you eat and drink in France?
French employers have a long history of letting employees take long lunch breaks.
You'll find that both large and small cities almost shut down for a few hours in the middle of the day. Restaurants offer both lunch and dinner menus, and some have breakfast menus too.
You can find all the dishes that you love from back home as well as classic French options, including wine, croissants, and souffle.
43. What is France's national dish?
The national dish of France is pot-au-feu, which means pot-in-the-fire.
Originally made by peasants who wanted a filling and hearty meal, it now appears on upscale restaurant menus. The dish features steak or another type of red meat slowly cooked over a fire in a pot filled with vegetables and a savory broth.
Prior to serving, the cooks remove the meat and slice it. You'll get a bowl filled with thin slices of meat and thick vegetables with a delicious broth poured over the top.
Watch on YouTube
44. What is a typical dinner in France?
The French are no different from you or me. They like the same types of foods and may grab fast food on the way home from work.
A typical French lunch features more dishes that you will savor. This meal will usually include an appetizer to start such as pate or a terrine and then the main course. You may opt for soup or salad as your appetizer.
Most meals end with a dessert followed by a cheese plate.
45. What is the most popular drink in France?
With dozens of vineyards and wineries in the nation, it's not surprising that wine is the country's most popular drink.
Residents also enjoy other alcoholic beverages, including absinthe and Chambord. Both Coke and Pepsi are popular too. Other sodas that are popular in the country include Orangina, Britvic, Andros, and Roxane.
46. What do the locals eat for breakfast?
Croissants are the top breakfast dish in France. Many eat their croissants with a cafe au lait or a cafe crème, which mixes coffee with milk.
You pull off pieces of the croissant and dip it into the drink. Locals also eat baguettes and other bread with thick butter and jam.
47. What is the main dish in France?
Coq au vin might be the top dish in France. It incorporates pieces of chicken cooked on the bone in a wine sauce and served over noodles with vegetables and fresh bread.
Some also call chocolate mousse the main dish of France. Chocolate mousse is a type of thick chocolate pudding often served with whipped cream.
48. What food and drink is France famous for?
Julia Child popularized French cooking after living in France and studying its methods of cooking.
Some of the dishes that she brought to America and other parts of the world include ratatouille and cassoulet. Cassoulet is a simple dish that uses beans and other ingredients cooked slowly. Ratatouille is a dish that uses fresh vegetable cooked together.
49. What fruit is France famous for?
France produces millions of pounds of apples each year and exports the fruit to other countries.
Though you might associate avocados with exotic and tropical destinations, it actually grows in France.
Some of the other fruits famous in France include bananas, blackberries, cherries, and clementines as well as chestnuts.
50. What can you not eat in France?
You can safely eat any of the foods served in restaurants in France, but you may want to avoid some of the weirder foods.
French people eat a type of sausage made from animal blood and other delicacies such as animal brains. If you need help, don't be afraid to ask for assistance reading the menu.
51. Can I drink the water in France?
Unlike other countries that have less than perfect drinking water, the water in France is generally safe to drink.
Not only can you drink the water served in restaurants, but you can drink the water that comes from the tap in your hotel room too. Many restaurants and shops also sell bottled water.
---
Language in France
52. What are the official languages in France?
The official language in France is French, and more 87% of residents feel comfortable with this language.
Though French is the national language, several regional languages are common too, including Celtic and Germanic.
More than 5% of the population speaks Arabic, Spanish or Portuguese. You'll also find plenty of people who speak English as a first or second language.
Watch on YouTube
Learning French: A couple of resources you might consider are Easy French Step by Step and Living Language French.
53. What language are road signs in France?
Almost every road sign that you come across in France is in French.
The country uses this language because the majority of its residents and visitors speak it. If you don't feel comfortable with your French language skills, you can view some of the road signs in France before your trip.
---
Wildlife in France
54. What animals live in France?
Before heading to France, you can take a look at some of the nation's native animals.
Some of the mammals that reside in the country include the Alpine Ibex, Beech Marten, Dormice and European beaver. You may see red deer and weasels in the wild too, including in national and regional parks.
55. What is France's national animal?
The national animal of France is the Gallic Rooster. This animal is so popular that you'll see it on the country's official flag. It often has feathers in shades of brown and black with a large red comb.
The Gallic Rooster also appears in decorations on churches and other buildings.
56. What dangerous animals are in France?
One of the more uniquely dangerous animals found in France is a Pacu, a fish that bites testicles. This is far from the only dangerous animal you might face though.
Other dangerous animals live in open areas and can attack visitors, including black panthers, wolves and the bears that the nation reintroduced in the recent past.
57. Are there any deadly spiders in France?
You are generally safe from deadly spiders as you travel through France, but you may come across some in the southern region of the country that is potentially dangerous. A British man was bitten by a brown recluse spider almost died due to complications from that bite after a trip to France.
---
Plant Life in France
58. What is France national flower?
France's national flower is the iris, which you can see in the country's official flag. It is a major part of the fleur-de-lis, which is a symbol of the monarchy who once ran France.
You can find decorations and souvenirs to take back home that incorporate this beautiful flower.
59. What types of vegetation are common in France?
Carrots are among the more commonly produced vegetables in France. During the shortages in World War I and II, farmers used these crops to support themselves and their families. Some of the other vegetables that you'll commonly find in France include artichokes and the leeks and onions used in popular soups.
60. What crops are grown in France?
Root vegetables represent the most popular crop grown in France. Those vegetables include any that grow below the surface of the ground such as leeks, potatoes and onions.
France also grows wheat and barely, which thrives in its climate. Most of those crops go into the production of cereals and other packaged foods.
---
National Symbols of France
61. What is the symbol of France?
The national symbol of France is the French tricolor, which incorporates three different colors.
You will also find the Great Seal of France on some official documents and items. This seal features of the original Statue of Liberty in a seated position with a crown on her head and a staff in her hand.
62. What is the national tree of France?
France picked the yew as its national tree. The yew tree has a wide base with large branches that stick out and overhand from the ground.
During the growing season, small buds will form on the branches that resemble seed pods. France exports some of the yew trees it grows to other nations.
63. What is France's national bird?
France also has a national bird, which is the Gallic Rooster. This bird represents the nation and the way the regions in the country came together.
Both Belgium and Wallonia use the same bird as a symbol. French teams often use the rooster or a version of the bird as their mascots.
64. What is France's national animal?
While the Gallic Rooster serves as the national bird, it is also the national animal of France. This rooster has some specific identifying marks, including a bright red comb and feathers in deep and dark colors.
You'll often see the Gallic Rooster on government buildings and team merchandise across the country.
65. What is France's national sport?
It should not surprise you that the national sport of France is football, which we here in the United States call soccer.
The nation currently has the maximum number of players allowed in any country. Millions of local and visiting fans go to games to support their favorite teams every year.
---
Culture in France
66. What are some of the different cultures in France?
France is something of a melting pot because of the sheer number of people who move there from other countries. It is one of the fashion capitals of the world and the birthplace of haute couture.
Due in part to the number of fashion houses in Paris and other cities, many residents and visitors dress in designer fashions.
67. What is the population of France?
The total population of France is more than 67 million. This number includes those living in the nation itself and those who reside in French territory. It also includes those living on the islands off the coast.
Some of these islands have a population of 100,000 residents or more. Most citizens reside in major cities.
68. Is France's population increasing or decreasing?
France is in the middle of a population increase. The nation saw an increase in the number of residents every year since 1956.
More than 240,000 new people moved to the country between 2018 and 2019. The nation's population will likely increase by 3% or more in the coming years.
69. How many immigrants live in France?
The number of immigrants living in France now includes more than six million residents.
France refers to immigrants as people not born in the country who move there. More than 40% of the immigrants living in France reside in Paris and the neighborhoods right outside of the city center.
70. Where do the immigrants in France come from?
Approximately 8% of all immigrants in France come from Portugal. Around 5% of those immigrants come from the UK, with another 5% coming from Spain.
France also sees people immigrating from parts of Africa and other regions in Europe. As much as 2% of French immigrants are from the United States.
---
France Immigration and Expat Facts
71. What is the best place to live in France?
Some of the best places to live in France include areas populated by expats. Though you might love the idea of living in Paris, the crowds and the high cost of living can be a turn-off.
A better alternative is Montpeiller, which has a laid back atmosphere. Other popular places to live in France include Nice, Toulouse and Annecy.
72. What are the requirements to live in France?
How can I immigrate to France? To immigrate to France, you must make sure that you meet the base requirements. You need some type of permit such as a short stay visa designed for those staying less than three months.
The French consulate offers help for those who want to move. Once you have a visa, you can move to and live in France. At least two months before your visa expires, you can apply for permanent resident status.
73. How do you become a citizen of France?
Is it hard to become a citizen of France? The process of becoming a French citizen is long and complex. You need to have all your official documents ready before you apply for residency.
The country asks that you have some way to support yourself such as a job or a savings account. It can take months for the country to make a decision on your application.
Watch on YouTube
74. Is it easy to get permanent residency in France?
It is not easy to become a permanent resident of France because the country only accepts so many new residents each year.
You need to show that you can support yourself and that you will bring something to the country that other immigrants do not. Those who have money saved up and jobs in the country have a better chance of becoming a resident.
75. How long can I live in France?
You can live for up to one full year in France with a long stay visa.
A short stay visa lasts for only three months and requires that you leave on the date listed on the form. If you finish out the terms of your long stay visa and apply for permanent residency status, you can remain in the country for an indefinite period of time.
76. How long can I stay in France without a visa?
You must have a visa to live in France or to visit the country. The government accepts and processes visa applications every week.
It is illegal to remain in the country without a proper and valid visa. If your visa expires before you leave, you must contact the consulate and embassy. France may demand that you leave immediately.
77. How can I work in France?
Those who want to work in France must have a work visa. France looks for skilled workers and laborers who can do specific types of jobs, including teachers and performers.
To get a work visa, you usually need to have a job and ask your employer to complete documents on your behalf. If accepted, you need to visit the consulate to get your entry visa.
78. What percentage of France are immigrants?
Approximately 9.1% of all the people living in France are immigrants. The nation accepts those from war-torn countries who want a fresh start and those from other nations who want to live in France.
Among the countries with the highest number of immigrants in France include Spain, the United Kingdom, Portugal, Italy, and Germany.
79. How many expats are in France?
France ranks among the top countries in the world in terms of expats.
More than 190,000 of those expats come from the UK. The total number of American expats living in France is now 100,000. This figure increased significantly after World War II, then decreased in later years before increasing again in the 21st century.
Your Turn
Have a fact about France to share? Join me in the comments!
About the Author
Latest Posts
Hi, I'm Bryan Haines. And I'm a co-founder of Storyteller.Travel. I'm a traveler and photographer.
I also blog about photography on Storyteller Tech.