Thinking about a move to Ecuador? Meet 32 Ecuador expats and learn about what life is like in Ecuador as an expat.
Ecuador Expat Journeys
While every expat's Ecuador relocation is unique, you can learn a lot from each experience. Each expat interview offers insight into what you can expect during your move and transition.
In this huge guide, you'll meet 32 expats in Ecuador. While it's great to read books about expat life, nothing replaces first-hand experience.
The expats featured in this article come from many backgrounds and countries. While there are many retired expats, there are also business owners and young married couples.
These Ecuador expat interviews address the most common questions and concerns that future expats have. These include:
language learning
working abroad
getting settled
cost of living in Ecuador
what they love about living in Ecuador
While the majority of the Ecuador expats are still in the country, some have returned to their home country or moved on to another one.
There are many reasons why some expats might decide not to live in Ecuador.
Ecuador Expats: Meet 32 Expats From Around the World
---

Inge Van den Herrewegen Living in Santa Marianita
Inge is from Oudenaarde, Belgium and decided to move to Ecuador after traveling through Australia, New Zealand, Fiji, French Polynesia, Chile, and Peru.
After hearing about the small coastal town of Santa Marianita, she headed north and decided to stay. She now has a family, including two sons. She runs Punta la Barca – a small hosteria on the coast, and gives kite-surfing lessons.
---
Dave and Robin Zinck Living in Loja, Giron, and San Jacinto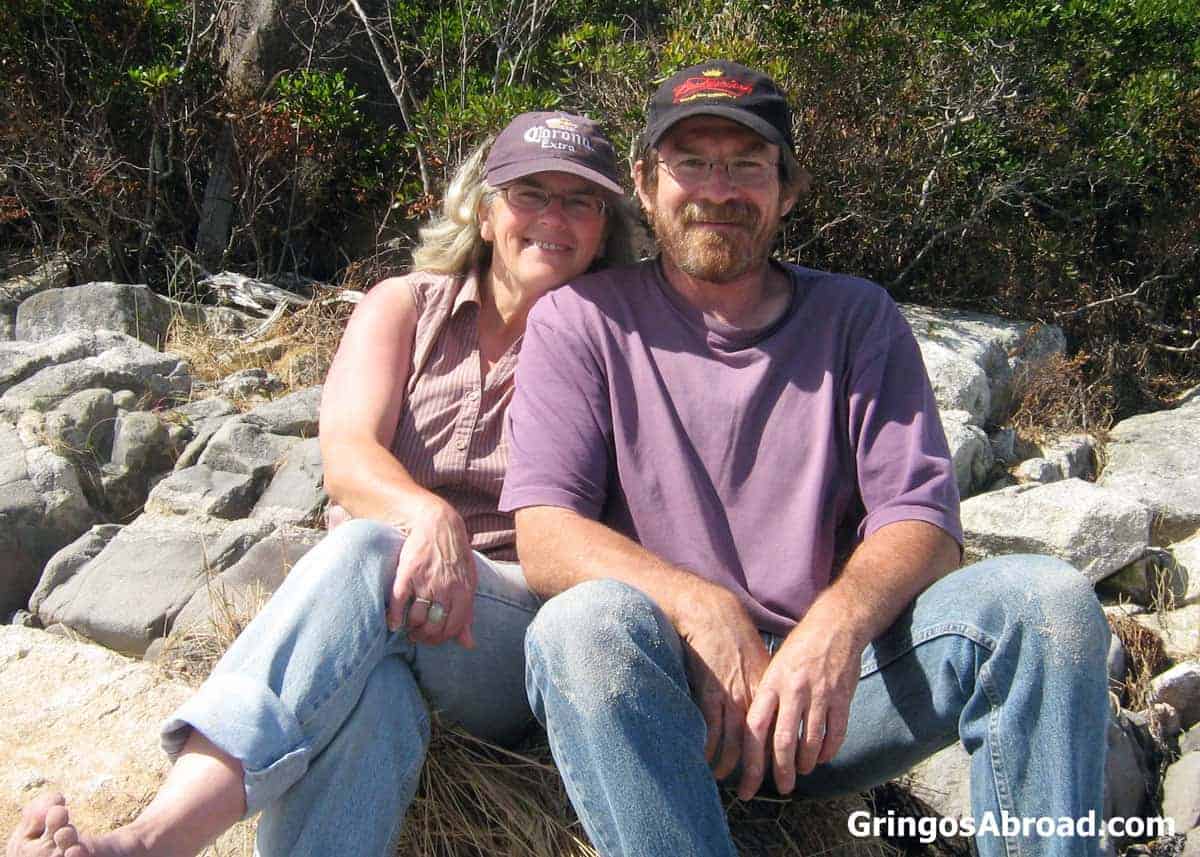 Dave and Robin moved to Ecuador in January 2016.
They explored much of the country and lived in three areas: San Jacinto (near Manta, on the coast), Giron (in Yunguilla Valley) and Loja, in southern Ecuador.
After 1.5 years in Ecuador, they decided to return to Canada.
---
Andra and Josh Carter Living in Otavalo Ecuador
Andra and Josh moved to Otavalo in 2011. In September 2017, they moved back to the United States.
In 2014, they worked with a group of local Ecuadorians to create a cafe in Otavalo – La Cosecha Ecuador. This collaboration has resulted in an incredible location that serves thousands of customers a year. It is a Lonely Planet's Top Pick for Otavalo and rated on #1 on TripAdvisor in both the city and the province.
---
Cassie McClellan Living in Otavalo
Cassie and her husband have been living in Otavalo since 2012.
In this interview, Cassie shares why they moved, what they love about life in Otavalo, and how they are learning Spanish.
Their experience has been different than many expats in Ecuador. They have run a small bed and breakfast – and also a microbrewery.
You'll especially want to check out what they love about Ecuador at the end of the interview.
---
Deborah Hughes Living in Manta
The Hughes family moved from South Lake Tahoe, California to Manta Ecuador.
In this post, they discuss why they chose to live on the coast – instead of in Cuenca, high in Ecuador's Andes mountains.
Read why they chose the coast: What's the best place to live in Ecuador? Mountains vs Coast
---
Gregory Diehl Living in Vilcabamba
Gregory Diehl left California at 18 to explore our world and find himself.
He has lived and worked in more than 50 countries, chronicling the enlightening lessons he learned in the Amazon bestseller: Travel As Transformation.
After traveling the world, he chose to settle in Vilcabamba. Here's why: Read his full story
---
Damaris de Jimenez Living in Cuenca
Damaris came to Ecuador in 2009 looking for a break from the typical American routine.
What she found is adventure (and her future husband). Read her full story
---
Rick and Dana Racinskas Living in Salinas
Rick and Dana are a married couple of 40 years. After checking out both Belize and Ecuador, they moved from Texas to the beach city of Salinas, Ecuador.
Since they arrived, they have opened Chipipe Villa – an assisted living retirement home for expats and Ecuadorians.
Check out our complete guide to Ecuador beaches
---
Todd & Heidi Gorishek Living in Cuenca
Todd and Heidi moved to Bahia de Caraquez (on Ecuador's coast) in January 2016. After the earthquake hit that town on April 16th, their family moved to Cuenca.
This is their first international move and they are loving their new life in Cuenca.
Todd writes a daily blog about life in Ecuador at Todd Talk in Ecuador.
---
Linn Vermilion Smith Living in Pakakuna Gardens, Chaca
Linn's journey from the US to Cuenca, the coast and then back to the Andes (near Quito) is one that many expats can relate to.
After arriving in Cuenca in 2010, they decided to look for a warmer climate. (Some expats find it cold in Cuenca.)
After a short period on the coast, they settled in Chaca – just outside of Quito – in a small community called Pakakuna Gardens.
---
Why I Decided to Move to Loja Ecuador: Jesse Bayer
In 2013, Jesse moved from New York to the province of Loja in Southern Ecuador.
Jesse was a real estate investor in New York City and offers a unique perspective on real estate in Ecuador.
Jesse is co-founder of Abundant Living Ecuador – a real estate and relocation services company based out of Loja.
---
Mark Cowtan Living in Capaes, Salinas Ecuador
In December 2012, Mark and his family moved from Northern California to Salinas, Ecuador.
He is British and his wife is Peruvian.
A couple of years ago, Mark's family was featured in House Hunters International.
---
Why We Sold it All and Moved to Cuenca Ecuador (Haines Family)
Back in 2013, I (Bryan) wrote this overview of why we decided to sell everything and move to Cuenca, Ecuador.
Dena also wrote her expat profile about our life in Cuenca – after we had lived there for a year and a half.
A couple of years ago, Dena wrote What's it Like to Live in Cuenca Ecuador? This has been one of our most read articles on the site.
And our daughter, Drew, also wrote about what it was like for her to move to Ecuador when she was 8-years-old: My Move to Ecuador: From the Eyes of an 8-Year-Old Canadian Girl
---
David Day Living in Canoa, Manabi Ecuador
David lives in Canoa with his Ecuadorian wife and two children.
He has worked with a micro-brewery in Canoa and also as a tour guide.
---
Stewart Perez Living in Cumbaya, Ecuador
Stewart and his family moved from Florida to Cumbayá (Pichincha Province).
He works as a property and construction manager.
---
House Hunters International Ecuador: All 14 Episodes
With it's popularity among expats, it's little wonder that Ecuador has been in the sights of House Hunters International.
Back in 2012, our family was featured in a House Hunters International episode in Cuenca.
Curious about HHI? See our behind the scenes in House Hunters International.
---
Gary Sisk Living in Cuenca, Ecuador
Gary moved from the States back in 2011.
Since then, he wrote a book about his move (Why Ecuador for Me) and a blog.
His story is one of our most highly commented of all of them.
---
Jamie Stambaugh Living in Cotacachi
Jamie is a young mother of two boys who lived in Cotachaci for just over a year.
In her story, you'll read what it was like to school her two boys in the local school system.
Jamie gives this important tip: "I think being very honest with yourself about what you can and cannot handle about your living space will help a lot when budgeting for a place to live."
---
Christina Ring Living in Otavalo
After visiting Ecuador on her honeymoon, Christina and Thomas decided to move two years later.
Christina is from Germany and now operates 4 Volcanoes Lodge. Christina wrote a piece about owning horses in Ecuador.
Learn more about her lodge 4volcanoes.com.
Your Turn
Do you have a question you would like to ask an expat? Just visit their specific page and ask it in the comment section.