Although tiny, Ecuador is a very diverse country. In this post, I'll share 46 unusual and interesting facts about Ecuador. They include wildlife, culture, political, nature, and more.

Here you can learn some things great facts about Ecuador that you probably didn't already know. If you have any to add, I'd love to hear them in the comments!
46 Weird and Interesting Ecuador Facts
1. Ecuador's Official Name
Official Name: Republic of Ecuador (Spanish: República del Ecuador)
2. Ecuador has 4 World Heritage Sites
Ecuador has four world heritage sites: Galapagos Islands, Sangay National Park, City of Quito and the City of Cuenca.
3. What is Ecuador's Population?
Population: 16,620,000 (2017 estimate)
4. Where are the Galapagos Located?
The Galapagos Islands are 620 miles (1000 kilometers) from mainland Ecuador.
5. What are Citizens of Ecuador known as?
Demonym (Citizens are known as): Ecuadorian
6. What is the world's most biodiverse Country?
Ecuador is considered the most bio-diverse country in the world (per unit area).
Ecuador is known as one of seventeen mega-diverse countries in the world.
7. What is Ecuador's Currency?
Ecuador's currency is the US Dollar. Here's more about currency in Ecuador.
8. Do I need a power adapter when I visit Ecuador?
Ecuador power outlets use 110v (the same as in the US and Canada).
9. What is time is it in Ecuador?
Timezone: GMT -5 (Mainland), GMT -6 (Galapagos) Convert your timezone
10. What are Ecuador's international airports?
Ecuador has two international airports: Quito and Guayaquil
11. What languages are spoken in Ecuador?
Language in Ecuador: Spanish is the most common and official language in Ecuador. Here's the best way to learn Spanish.
Quechua (known locally as 'Quichua' or 'Kichwa') and Shuar are also commonly spoken in parts of the country.
Other languages include: Achuar-Shiwiar, Cha'palaachi, Cofán, Colorado (Tsachila), Cuaiquer, Secoya, Siona, Tetete, Waorani. Amerindian languages are spoken by more than 2,300,000 people in Ecuador.
12. How Many Bird Species Does Ecuador Have?
Ecuador has 1,638 bird species (a full 15% of the known species worldwide)
13. How Large is Ecuador?
Area: 109,483 square miles (283,560 square kilometers)
14. What is the Capital of Ecuador?
Capital: Quito (2010 population of 1,607,734). Learn more about Quito.
See the guide to Quito weather.
15. What is Ecuador's largest export?
Oil accounts for 40% of all of Ecuador's exports.
16. How large is Ecuador's annual banana crop?
Ecuador is the world's largest exporter of bananas.
In 2013, Ecuador produced 6.54 m tonnes. And exported 5.55 m tonnes (at an estimated value of $2.37 billion USD.
17. What Are Ecuador's Major Exports?
Ecuador is a major exporter of oil, flowers, cocoa, bananas, shrimp, rice, cotton and coffee.
18. What is Ecuador's Largest City?
Largest City: Guayaquil (2010 population: 2,291,000). Here's what the weather is like in Guayaquil and some beautiful photos.
19. What are Ecuador's Major Cities?
Major Cities in Ecuador: Quito, Guayaquil, Cuenca, Machala, Manta, Ibarra, Santo Domingo, Durán, Loja, Portoviejo, Ambato, and Salinas.
20. What Religions are in Ecuador?
The primary religion is Roman Catholic followed by Protestants and Jehovah's Witnesses.
The remaining groups are Jewish, Buddhists and Mormons.
21. Common Misspellings of Ecuador
Misspellings: Equator, Equador, Ecuator
22. What is the Life Expectancy in Ecuador?
Life Expectancy: 71 years
23. What is the smallest Andean country?
Ecuador is the smallest Andean country.
The seven Andean States include Colombia, Venezuela, Ecuador, Peru, Bolivia, Argentina, and Chile.
24. How many Provinces in Ecuador?
Ecuador has 24 provinces, including the province of Galapagos.
25. When does the Sun Set in Ecuador?
6 o'clock: When the sun rises and sets all year round
26. Ecuador Protects Nature
Ecuador has the first constitution on the planet that recognizes the rights of nature.
27. Expats love Ecuador
Ecuador is the most popular country for expats in South America.
28. Where is Ecuador Located?
Ecuador is located on the Pacific coast of South America – between Colombia and Peru.
Although Ecuador is one of the smallest countries in South America (after Uruguay, Suriname, Guyana and French Guyana) it is one of the most diverse.
Ecuador is located directly on the equator between the latitudes 2°N and 5°S. The equator crosses both the mainland and the Galapagos Islands.
29. On Top of the World: Mt. Chimborazo
The top of Mt. Chimborazo in Quito is as far as you can get from the center of the earth.
This may sound crazy – there are many mountains higher than Chimborazo – however the earth bulges at the equator, making Mt. Chimborazo technically 1.5 miles higher than Mt. Everest.
How high is Mt Chimborazo? It has an elevation of 6,263 m (20,548 ft).

What is Ecuador famous for? See the full list.
30. Shape Shifting Amazon Frog
The "Punk Rocker", or mutable rainfrog was recently discovered in Ecuador's rain-forest. It is the first known vertebrate to change the texture of its skin.
Its skin changes from almost smooth, to spiky in a matter of minutes. Experts have yet to understand how this frog does it or what the spines are made of.
31. Ecuador Not Close With Brazil
Ecuador and Chile are the only two South American countries not to share a border with Brazil.
32. Ecuador's Constitution Recognizes … Nature
In 2008, Ecuador declared that nature has constitutional rights, making it the first to do so. This means that they do not treat it as property but recognize its "right to exist, persist, maintain and regenerate its vital cycles."
33. August 10th is an Important Day (10 de Agosto)
Independence day is August tenth, or diez de Agosto, which is a popular name for streets, parks and markets.
34. Soil, Sky and Blood (Ecuador's Flag)
Ecuador's flag is yellow, blue and red. Yellow for the country's soil and crops, blue for the sky and ocean, and red for the blood of those who fought for independence.
The flag also contains the crest with the endangered condor perched on top.
35. "It's the truth, I swear"
Ecuador is home to the endangered Pinocchio Lizard which was recently rediscovered in Ecuador's Andes in 2007.
In line with its name, the male Pinocchio Lizard has a precarious proboscis; that appears to be longer than its head.
36. Measuring Error at the Middle of the World
Ciudad Mitad del Mundo (Middle of the World City) in Quito was thought – until recently – to be directly on the equator.
There is an attractive marble monument called Mitad del Mundo. Re-measurements show, however, that the equator actually lies 240 meters north of the monument. Rats! 🙂
37. Getting High in Quito
Quito has the highest elevation for any constitutional capital city, 2850m above sea level.
Interested in Quito? Here are 17 Interesting Facts About Quito Ecuador
38. Guinea Pigs are Super Popular (and it's not why you think)
Cuy, or guinea pig, is a delicacy in Ecuador. Many people find the idea repulsive, I find those people to be small-minded and biased :). Cuy tastes much like rabbit or duck; which most of us in northern counties think nothing of eating. I would definitely recommend giving it a try.
However, a word of caution: as with any other food, be cautious where you choose to eat. While some (probably most) restaurants have wonderful health standards, others have a lack of hygiene. But, it is definitely worth the effort to find a restaurant that suits you so you can try Cuy.
39. 4 Worlds in 1 Country
Ecuador has four unique geographical locations, the Amazon jungle – home to Yasuni National Park, the Coastal region – with surfing and different typical foods, the Galapagos Islands – with its rare and amazing animal and plant life and the Andes (Sierra) – a popular vacation and retirement destination.
40. The Not-So-Panama Panama Hats
The so-called "Panama" Hat actually comes from Ecuador.
41. Ecuador is Super Multilingual
There are 24 languages spoken in Ecuador! These include Spanish, 9 varieties of Quechua, Shuar and many others.
42. Ecuador = Equator
Ecuador is the only country in the world named after a geographic feature. Republica del Ecuador translates to Republic of the Equator.
The many misspellings of Ecuador (Equador, Ecuator, and Equator) probably come from this.
43. New Cloud Forest Carnivorous Mammal
The Olinguito lives in Ecuador's cloud forest and is the first carnivorous mammal discovered in the Western Hemisphere in the past 35 years.
44. Yes, the Galapagos Islands belong to Ecuador
Ecuador is home to the Galapagos Islands, which are 620 miles from the mainland. The Galapagos is home to a wide variety of rare animals, some of which can only be found there.
45. Darwin's Finches
Charles Darwin developed his well-known theory of evolution in the Galapagos Islands after observing the different habits of finches.
46. The Adventures of a Bear Called Paddington
Paddington Bear lives in Ecuador. Okay, not really :). But the Andean Bear – the bear on which Paddington was based – does!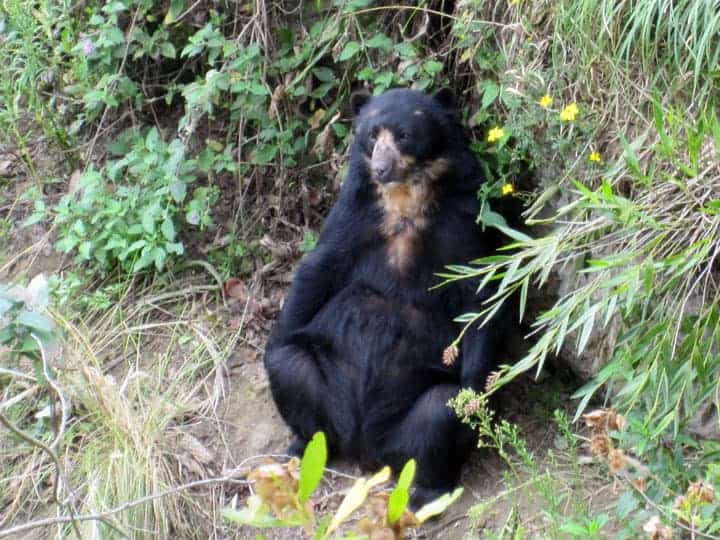 Looking for more information about Ecuador? Here are the Top 13 books about traveling in Ecuador
Ecuador is divided into provinces and each of those into a total of 221 cantons. The cantons are then divided into parroquias. Learn about Ecuador's cantons and parroquias.
What Makes Ecuador Famous?
Ecuador is known for the Galapagos Islands, beautiful beaches and the Andes mountains. You can enjoy tasty seafood on the coast, roasted guinea pig in the Andes and your choice of monkey, snake, turtle or tree slugs in the Amazon region.
Ecuador is popular for expats because of its stable government, easy permanent residency visas and its use of the US dollar. Popular expat areas are Cuenca, Quito, Salinas and Bahía de Caráquez.
Ecuador's 4 Geographic Regions
Ecuador has four primary geographic regions:
I hope that you have found these facts about Ecuador entertaining and educational.
What's your favorite? Do you have any unusual or interesting facts about Ecuador to share? Please share them in the comments!
About the Author
Latest Posts
Drew Haines is an animal enthusiast and travel writer. She loves to share her passion through her writing.
Drew runs two popular animal sites: EverywhereWild and JustBirding. She lived in Ecuador for 6 years and explored the Galapagos Islands. Currently based in N.S., Canada.
Drew is a contributor to Storyteller Travel.