Planning a trip to Ecuador's Andes mountains? In this post, I'll share 15 things to do in Ecuador's Andes Mountains. Plus tons of photos and videos to help you plan your trip.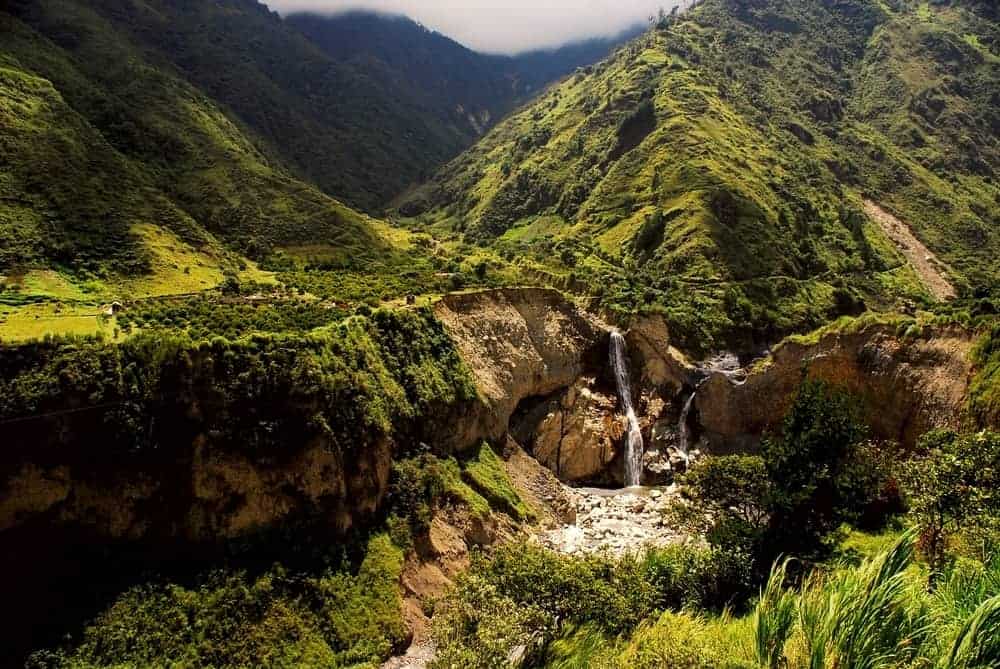 Image copyright 4Volcanoes Lodge
When most people think of Ecuador, the first thing that comes to mind is the Galapagos. But Ecuador is so much more than those wonderfully bizarre Galapagos animals.
In this post, you'll learn about 15 attractions that you can visit up in the Andes Mountains.
Top 10 Things to Do in Ecuador's Andes (Video)
Prefer to read? Skip the video and check out the post below!
Learn more about Ecuador with these Top 13 Books about Ecuador Travel

Image copyright 4Volcanoes Lodge
15 Things to Do in Ecuador's Andes
Here are the top 15 things to do in Ecuador's Andes Mountains:
Otavalo: The city of Otavalo is about 2 hours north of Quito. In Otavalo, you'll see the three volcanoes that surround the city. Otavalo is most famous for it's market – the largest indigenous clothes market in South America. While you'll find Otavaleño work at markets across the country, none are as large as in their home town. Meet Christina Ring – an expat living in Otavalo who runs 4Volcanoes Lodge. See photos of horses in Otavalo. More reading: 11 Things to Know When Visiting Otavalo Market
Cuicocha: This lake is in volcanic crater at the foot of Cotacachi Volcano. The lake is 3 km (2 mi) wide. It gets it's name from the Kichwa indigenous language and means "Lago del Cuy" or Guinea Pig Lake in English – because of the guinea pig shape of its largest island. Of course, guinea pigs play a significant role in every day life in Ecuador – they are farmed and eaten regularly. The lake is responsible for the fertile soil of the Otavalo Valley.
Mitad del Mundo: Visit Latitude: 00° 00' 00'' This monument attracts countless visitors each year. Here you can stand with a foot in each hemisphere (North and South). Although the calculation is off a little (250 meters) it continues to be a super popular tourist destination. You can visit two museums: the Itiñan Solar Museum and Museo Etnográfico that displays lots of everyday items representing indigenous customs, traditions, and rites.
Quitsato Monument: This huge sundial is located directly on the equator and can be visited on the way back from Cuicocha. This non-profit project is free to visit but you can hire a guide for $10. Watch for the Cayambe Volcano here.
Quito: This city's old town is a UNESCO World Cultural Heritage Site and is home to a new (February 2013) international airport. Quito is a huge city with so much to see. While in Quito you might want to ride the TelefériQo (cable car) up the foothills of Pichincha Volcano. Check out the top 6 attractions in Quito.
Termas de Papallacta: These thermal hot springs are located 60 km east of Quito. The largest hotel in the town features a spa, restaurant, and hot spring baths. From here, you can visit Cayambe Coca Nature Reserve.
Cayambe Coca Ecological Reserve: This reserve covers more than 400,000 hectares. The beautiful Cayambe Peak is at 5 750m above sea level. This snow-capped peak is Ecuador's 3rd highest and is a dormant volcano. In addition to Cayambe, there are three other volcanos – the newest of the three is Reventador and is still active.
Quilotoa: This water-filled caldera is located 70 km southwest of Quito. Its turquoise waters make it a breathtaking sight. Check out the book: The Quilotoa Loop – written by expat Susan Schenck.
Tren Crucero & Devil's Nose (Nariz del Diablo): Over three days you'll travel from the Andes to the coast (Quito to Guayaquil). There are numerous stops with cultural excursions. This is one adventure that remains pending on my list.
Banos: The small town of Baños is a top destination for many visitors to Ecuador. The thermal hot springs, 70 waterfalls and hundreds of acres of pristine forest all attract lots of attention. While in Banos, you might consider staying at Luna Runtun or one of the many lower cost hostels.
Swing at the End of the World: This famous swing is located in Banos at La Casa del Árbol – a small tree-house at the edge of a canyon. If you have any fear of heights the photos will give you butterflies. But looks can be deceiving. There is actually a gentle slope – not a steep cliff that you might imagine.
Ingapirca: This town is home to Ecuador's largest site of Inca ruins. It's close to Cuenca and is worth visiting. Make sure you get a guide. You will get so much more from the trip with a good guide.
Azogues: Azogues is a small city north of Cuenca (about 40 minutes) and is known for its Panama hats, most of which are exported.
Cuenca: Not only is Cuenca a top retirement city – it is also one of the top destinations for tourists. It is one of the most picturesque cities in the country and is a UNESCO Cultural Heritage Site. Here are some great activities to do in Cuenca.
Yunguilla Valley: This is our favorite place in Ecuador. We lived there for three years in a town called Santa Isabel.
Exploring La Sierra in Ecuador
To conclude, here are details on many of these attractions.
Image copyright 4Volcanoes Lodge
Learn more about all 105 volcanoes in Ecuador.
Driving Down Ecuador's Andes Mountains
Here in Ecuador I've seen the most beautiful scenery that I've ever seen in my life.
Most of it has been enjoyed while driving from Cuenca down the Andes to the Coast. The scenery is truly breathtaking, it keeps us gasping and pointing while trying our best to capture photos of it all as it quickly passes by.
From Cuenca to Salinas
As we start the drive we see vast fields of patchwork farmland rising and falling within a circle of towering majestic mountains.
Descending a bit further, the land begins to take on a more dramatic appearance. The valleys fall away, as the mountains seem to rise ever higher.
We can see homes scattered all over the sides and floors of these valleys, paved roads, and dirt footpaths snake their way between them, and farmer's fields are seen in what appear to be impossibly steep locations.
Every now and then we see a solitary home situated on the bluff of a mountain overlooking smaller mountains and incredibly deep valleys.
We wonder how the people make their way to and from it, what they went through to build it there, and the amazing feeling they have every day as they enjoy the view.
We continue the descent and are awestruck as we start to see clouds flowing into the valley just below us, it's an amazing feeling to realize we live above the clouds.
As we drive down into the clouds things can get a bit foggy and the scenery changes. We begin to see banana plants and other tropical-looking trees and plants. We can feel the temperature warming and the ground leveling out, we see rice fields and large banana plantations.
Check out our Ecuador Travel Guide (it's free)!
As we make our way to the coast things get a lot scruffier, the ground is level and dry. Many of the homes are on stilts and are really scattered. Most of the vegetation appears to be dead, except for irrigated crops. Then we start seeing more homes again as we enter some of the coastal towns.
Finally, we see the ocean and palm trees. This is a welcome sight after the scruffy dead-looking flat land we've been driving through for the past couple of hours.
Check out: 34 beautiful photos of Guayaquil
Driving Safety in Ecuador: Down the Andes
I'll just add a word or two about the driving conditions.
The roads are kept in pretty good repair, but the driving can get kind of hairy. Some drivers take a lot of risks, passing on blind hills and corners, passing or just driving in the other lane of oncoming traffic for the fun of it.
This can make for a scary experience, but we recently learned something that makes a big difference: This drive should always be taken early in the day, as early as possible. This way traffic is avoided and so is the fog.
The fog sets in around 4 or 5 in the afternoon, and it's so thick you literally can't see 5 feet in front of the vehicle.
This reduced visibility mixed with some dangerous driving habits can make for an unpleasant experience, I wouldn't recommend it. And for us, making the drive after dark is out of the question.
Read more about the beach in Salinas and learn more about all of Ecuador's beaches.
So if you are making the drive, set out early and enjoy an amazing experience you'll never forget.
Photos of Ecuador's Andes Mountains (Video Tour)
We have lived and traveled in the beautiful Sierra (mountains) region of Ecuador for almost 5 years. This post is all about how breathtaking it is!

The Sierra takes in the Ecuador's Andes mountains and the Inter Andean highlands. We've traveled from Azauy to Cañar to Quito and we've put some of our favorite photos into a video slideshow.
(You may also enjoy reading our Ecuador travel page.)
Ecuador's Andes Amazing Scenery
As we explore the Sierra we often find ourselves compelled to stop and take pictures. It's the kind of thing whereby one of us will say "wow look at that, I can't believe how beautiful it is, lets stop I've got to get a picture!"
The mountains, fields, and valleys are gorgeous, we don't get tired of seeing them.

Interested to photograph some of these areas on your trip? Here's how to choose Best Camera for Travel.
Breathtaking Scenery in Ecuador's Andes
When we were thinking about moving to Ecuador we imagined ourselves on the beach, but I think the scenery here in the Sierra is just as breathtaking. The way the sun and clouds play off the landscape is always changing. And when the clouds rise up from the valleys to the tops of the mountains it's a spectacular sight.
The climate zones change within the areas that make up the Sierra so we see different kinds of vegetation, grasses and trees, flowers and shrubs…
(Check out this post about our hikes. We were high up in the mountains around Cuenca, the pictures are beautiful.)

Have you been to Ecuador's Andes? Please share your experiences with us by commenting on this post.
Your Turn
What is your favorite thing to do in Ecuador's Andes Mountains? Please join us in the comments.
About the Author
Latest Posts
Hi, I'm Bryan Haines. And I'm a co-founder of Storyteller.Travel. I'm a traveler and photographer.
I also blog about photography on Storyteller Tech.