To travel as safely as possible, we created this list of the safest African countries. In this post, you'll learn about the safest countries in Africa, according to actual data. Not opinions and tourism board marketing. We'll also take a quick look at other interesting information for each country on the list.
Mauritius, Ghana, and Botswana are the three safest countries in Africa. This is according to the Global Peace Index. It compares three factors, which are explained in this post. Other safe African countries include Sierra Leone, The Gambia, Senegal, and Tanzania.
DISCLAIMER: The following information is not my personal opinion, nor are they from personal experience. This comes from the 2021 Global Peace Index Report from Vision of Humanity. (Download PDF report). Any warnings listed below for such things as crime and safety have been mainly found from travel.gc.ca. Travel warnings can also be found at travel.state.gov.
Another note for any would-be travelers, if you must travel abroad during the COVID-19 outbreak, please keep in mind that many of the cited tourist attractions may be inaccessible due to the pandemic.
Safest African Countries: Ranking System
How are these countries ranked? The lower the number, the safer the country.
According to the Global Peace Index, they use three determining factors to factor in the score they give:
Ongoing Domestic and International Conflict: Such things as the number and duration of conflicts, how many deaths, the intensity of the conflict, and how the country fares with its neighbors impact the score.
Societal Safety and Security: In this section, things like political instability, refugees, terrorism, violent crimes, murders, jailed populations, and internal security officers and police officers play a role in affecting the score.
Militarisation: Military expenses, armed services personnel, importing and exporting of conventional weapons, nuclear and heavy weapons capabilities, how much is contributed to UN peacekeeping missions, and how easily accessible small arms and light weapons are all points that impact the peace score.
More detailed information can be found in Section 6 of the Global Peace Index Report.
And for comparison, see a list of other popular tourist countries at the end of the post. They are ranked by the same safety factors.
The guide is part of an ongoing series covering the safest countries in the world. Learn more about the safest countries in Asia, South America, Central America, Latin America, and Europe.
17 Safest Countries in Africa
Here's the list of what are considered to be the 17 safest countries in Africa, with some information as to crime and safety.
Not only that, you'll learn of some places you can go to if you decide to travel to a particular country.
1. Mauritius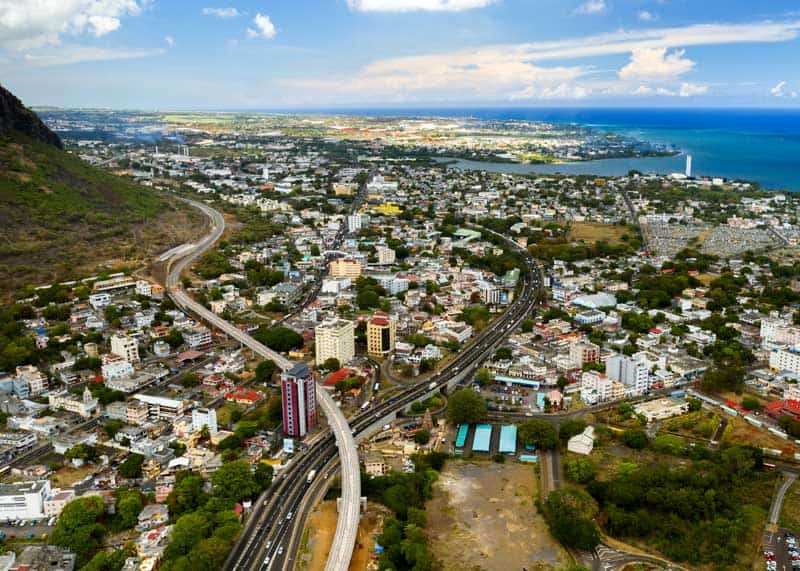 Safety Score: 1.592
Worldwide Rank: 28
Population: 1.266 million (2019)
Capital City: Port Louis
Tourists Per Year: 1.38 million (2019)
Mauritius is considered to be the safest country in Africa. In fact, its global rank is high in the Peace Index. This makes sense then, as tourism is one of Mauritius's biggest industries.
The country has many beautiful attractions and is considered to be a tropical paradise.
2. Ghana
Safety Score: 1.715
Worldwide Rank: 38
Population: 30.42 million (2019)
Capital City: Accra
Tourists Per Year: 1.13 million (2019)
Despite being considered a safe country, crime has increased in certain areas, like in Accra or other large cities.
With regards to tourism, Ghana's tropical climate and interesting wildlife make it a destination that can be enjoyed all year round.
You can visit attractions like Paga Crocodile Pond, Elmina Castle, and Aburi Botanical Gardens.
3. Botswana
Safety Score: 1.753
Worldwide Rank: 41
Population: 2.304 million (2019)
Capital City: Gaborone
Tourists Per Year: 1.83 million (2018)
Also considered to be a safe country by the Index, Botswana has many tourist attractions. Some of its biggest attractions are its game reserves, where safaris are available.
The Okavango Delta region is also considered a must-see when visiting, especially during the rainy season.
4. Sierra Leone
Safety Score: 1.813
Worldwide Rank: 46
Population: 7.813 million (2019)
Capital City: Freetown
Tourists Per Year: 71,000 (2019)
Sierra Leone does have a high crime rate, despite being high on this list. For tourism, you can visit such attractions as beaches, nature reserves, mountains, and islands.
One attraction is the Tacugama Chimpanzee Sanctuary, located about 40 minutes outside the capital, Freetown.
5. The Gambia
Safety Score: 1.853
Worldwide Rank: 53
Population: 2.348 million (2019)
Capital City: Banjul
Tourists Per Year: 619,000 (2019)
Pickpocketing and purse snatching can occur, especially in crowded areas. The Gambia is the smallest country in mainland Africa by land area.
Popular areas you can visit in the country include the capital of Banjul, the town of Jufureh, and the Kachkikally crocodile pool.
The Gambia is bordered on three sides by Senegal. On the west, it has a 50 mile (80 km) coastline on the Atlantic Ocean.
6. Senegal
Safety Score: 1.864
Worldwide Rank: 54
Population: 16.3 million (2019)
Capital City: Dakar
Tourists Per Year: 1.38 million (2017)
The Casamance conflict in Senegal is an ongoing battle between rebel groups and the military. It is considered to be of low-level violence, as a ceasefire was declared back in 2014. Keep an eye out for that area.
As a traveler, an interesting attraction is Gorée Island, a former slave trade post, and current UNESCO World Heritage Site.
7. Tanzania
Safety Score: 1.892
Worldwide Rank: 58
Population: 58.01 million (2019)
Capital City: Dodoma
Tourists Per Year: 1.527 million (2019)
Current warnings for Tanzania have to do with borders to other countries, such as Mozambique, Burundi, and the Democratic Republic of the Congo.
If you go for a visit, the big draw to Tanzania is Mount Kilimanjaro, the highest point in Africa.
8. Malawi
Safety Score: 1.909
Worldwide Rank: 59
Population: 18.63 million (2019)
Capital City: Lilongwe
Tourists Per Year: 871,000 (2019)
Malawi is relatively safe, though violent crimes can occur. The country has many things to offer to travelers, such as Mulanje Mountain, Lake Malawi, as well as national parks and game reserves (a common theme on this list).
Lake Malawi is one of the largest lakes in Africa.
Malawi is also well-known for its friendliness, being referred to as "The Warm Heart of Africa".
9. Equatorial Guinea
Safety Score: 1.915
Worldwide Rank: 62
Population: 1.356 million (2019)
Capital City: Malabo
Tourists Per Year: N/A
Armed robberies and muggings can occur here, especially in the cities. Despite being considered one of the least visited countries in the world, there are some places to visit.
Tourist attractions in Equatorial Guinea include the colonial quarter in the capital city of Malabo and hiking and beaches on the island of Bioko.
10. Namibia
Safety Score: 1.927
Worldwide Rank: 65
Population: 2.495 million (2019)
Capital City: Windhoek
Tourists Per Year: 1.596 million (2019)
Since the end of the Angolan civil war, the peace enjoyed in that country has helped improve things for its neighbor, Namibia. Despite this, petty crime is still common.
That being said, tourism is a major industry, and you can visit such attractions as the Namib Desert should you go.
11. Kingdom of Eswatini or Swaziland
Safety Score: 1.955
Worldwide Rank: 69
Population: 1.148 million (2019)
Capital City: Mbabane, Lobamba
Tourists Per Year: 1.23 million (2019)
Petty crime might be common, but it's relatively low when compared to other nations in its region. Tourism is quite successful in Swaziland.
You can visit such attractions as Hlane Royal National Park, go shopping in Swazi Market, or soak in some culture in Lobamba (the home of Swaziland's monarchy).
12. Madagascar
Safety Score: 1.963
Worldwide Rank: 70
Population: 26.97 million (2019)
Capital City: Antananarivo
Tourists Per Year: 486,000 (2019)
Batterie Beach and Anosy Region have been flagged as areas to avoid. Also, crime, in general, is widespread in Madagascar. Despite this, you can enjoy some nature tourism there.
One draw to Madagascar are lemurs, which are native only to the island. One place to find lemurs is in the Ranomafana National Park.
13. Zambia
Safety Score: 1.964
Worldwide Rank: 71
Population: 17.86 million (2019)
Capital City: Lusaka
Tourists Per Year: 1.266 million (2019)
Zambia is rightfully close to the top of this list. That being said, there can be some petty crime that takes place.
As a tourist, you could visit the world-famous Victoria Falls, as well as the world's longest lake, Lake Tanganyika. You can see the Zambezi River (one of the longest rivers in Africa) in Zambia.
14. Liberia
Safety Score: 1.998
Worldwide Rank: 76
Population: 4.937 million (2019)
Capital City: Monrovia
Tourists Per Year: N/A
Liberia isn't the safest place to visit, despite being number 9 on our list. There can be some violent crimes that occur, as criminals may often be armed.
While its economy has been damaged by the country's civil wars and the recent Ebola outbreak, there are some areas that you can visit, such as Mount Woligizi, beaches near Robertsport, and Sapo National park.
15. Morocco
Safety Score: 2.015
Worldwide Rank: 79
Population: 36.91 million (2020)
Capital City: Rabat
Tourists Per Year: 10.3 million (2017)
This north African country is popular with tourists. Here are some tips for safe travel around Morocco, which are good for almost any country you'll visit.
In northern Morocco, you'll find Ceuta and Melilla – two enclaves that belong to Spain. To the west of Morocco, you'll find the Canary Islands, that also belong to Spain.
16. Angola
Safety Score: 2.017
Worldwide Rank: 80 (Tied with Kosovo)
Population: 32.87 million (2020)
Capital City: Luanda
Tourists Per Year: 218,000 (2020)
17. Rwanda
Safety Score: 2.028
Worldwide Rank: 83
Population: 12.63 million
Capital City: Kigali
Tourists Per Year: 1.63 million (2019)
Rwanda is considered to be fairly safe, with crime being relatively low. Despite that, there is some petty theft to keep an eye out for.
When it comes to tourism, wildlife tourism is big in the country. You can visit such attractions as Volcanoes National Park, Lake Kivu, and the King's Palace Museum.
Here are some traditional Rwandan foods to try.
Learn about the fastest animals in Africa and around the world.
Other Countries Compared
To keep these ratings all in perspective, here are a number of other popular tourist countries, by the same rating.
Here they are, for least to most safe.
India: Ranked #135 (Score 2.553)
United States: Ranked #122 (Score 2.337)
Thailand: Ranked #113 (Score 2.205)
Uganda: Ranked #114 (Score 2.219)
Ecuador: Ranked #88 (Score 2.044)
Cuba: Ranked #87 (Score 2.042)
France: Ranked #55 (Score 1.868)
Costa Rica: Ranked #39 (Score 1.725)
Spain: Ranked #31 (Score 1.621)
Canada: Ranked #10 (Score 1.33)
All 17 African countries in this list rank above the United States.
Your Turn!
Africa is definitely a beautiful continent, one I'd love to explore more when possible.
Again, this list above is from the Global Peace Index.
This point bears repeating: wherever you decide to travel, please make sure you do extra research and use plenty of common sense. It doesn't matter how safe a country may seem, you can find trouble anywhere if you're not careful.
What are your thoughts on this list? Let us know in the comments below!
About the Author
Latest Posts
Hello, I'm Joshua Diegor. My love for travel began I was 18 when I went with some friends to New York City. All in all, I've traveled to 6 continents and 14 countries.
I'm a regular contributor to Storyteller Travel.